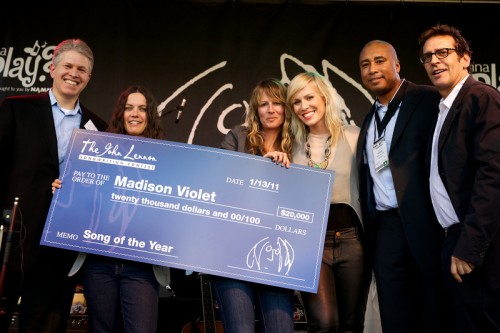 For a long time, songwriters have been entering contests locally, nationally, and globally, for a number of different reasons including the hopes of:
Gaining valuable feedback from the songwriting community and the music industry
Winning prize money
Being seen by the right people
Publicity
With the introduction of American Idol, The Voice and the many various other primetime TV competitions, a new surge of songwriting contests both locally and globally have become more popular than ever.
Before entering a songwriting contest, there are a few considerations you should make in order to make the most of each opportunity:
Is your genre and/or sub-genre of music a primary focus?
How much are the entry fees?
Who is on the judging panel?
How important/publicized is the event?
Are the prizes worth while?
These are all important questions to ask in order to make sure that you are picking the right time (and financial) investments. Songwriting contests are rarely free, so it is important to do your research and enter each contest with purpose and confidence.
---
Top 5 Songwriting Contests
---
1. The John Lennon Songwriting Contest
One of the world's most popular songwriting competitions, the John Lennon Songwriting Contest takes place annually for professionals and amateurs and is divided into 12 genres. Each song submitted requires the payment of a $30 fee. The grand prize winner will receive a $20,000 check, a recording equipment package, and a $1000 scholarship to the Digital Media Academy.
2. The U.S.A. Songwriting Competition
Don't be fooled by the name, the U.S.A. Songwriting Competition is actually a worldwide event that is offered in 6 different languages and is split up into 15 different genres. Each song entry has a $35 fee and the grand prize winner will receive radio airplay and $50,000 in 'cash and merchandise'.
3. The International Songwriting Competition
The International Songwriting Competition is also a worldwide event, however the ISC is split into more categories than any other - with a list of at least 20 major categories available on their website. Each first song entered requires a fee of $30, while any song submitted after that requires a fee of $22. The grand prize winner will receive $25,000 in cash (taxed by the US government) and $20,000 in prizes.
4. American Songwriter Lyrics Contest
This amateur lyrics competition was created by American Songwriter magazine and runs 6 times per year, in conjunction with the release of the new issues of the magazine. The submission fee for your lyrics is $12 (though this includes an issue of the American Songwriter magazine that will be mailed to you) and the grand prize winner will have their lyrics printed in American Songwriter magazine and receive a new Gibson guitar as well as a Shure microphone.
5. Indaba Music
Launched in 2007, Indaba Music is an online platform for songwriters, musicians and producers to find new opportunities to collaborate, network, educate and distribute their music. However, the Indaba Music platform is also home to regular online music and songwriting contests. Each contest is sponsored by a company or brand that is looking for a song placement, using the outcome of the contest as the way to pick the music. As such, each contest and prize are different, so it is best to simply head over to Indaba Music and regularly check back for new contest opportunities.
This is only the tip of the iceberg when it comes to songwriting contests with hundreds around the world that can appeal to every time of songwriter in any genre. Let us know which songwriting contests you like or have joined yourself with a comment below!