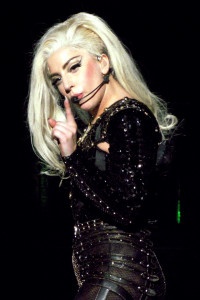 Stephanie Joanne Angela Germanotta, now known as Lady Gaga always had big plans of becoming a huge star. She did however, begin her career in the world of songwriting and music publishing. In 2007, after leaving school at NYU, she served as an intern for Famous Music Publishing. That company was later acquired by Sony/ATV, to whom she then signed with as a songwriter. Before her break out single, "Pokerface", Lady Gaga wrote songs for several acts including Britney Spears and New Kids On The Block.
Before country music star Hunter Hayes was headlining arenas across America, he was a songwriter. At the age of 17, Hunter Hayes moved to Nashville and signed with Universal Music Publishing Group. He went on to co-write the Rascal Flatts song "Play" from their 2010 album "Nothing Like This". Hunter began working on his debut album after signing with Atlantic Records in 2010.
Taylor Swift's signature songwriting style caught the attention of major music publishers far before it caught the attention of major labels. In 2004, at the age of 14, Taylor Swift was hired as a staff writer for Sony/ATV Publishing House. She was the youngest ever staff writer. Here she co-wrote with many of her songwriting idols and honed her craft before releasing her first hit "Tim McGraw" in the summer of 2008.
Before winning Grammy's for hits such as "Merry Go Round" and "Blowing Smoke", Kacey Musgraves was a songwriter. Before signing with Mercury Records in 2012, she signed a publishing deal with Warner/Chappell and went on to write hits for Martina Mcbride and Miranda Lambert
At the age of 18, Kesha Rose Sebert, now known as Kesha moved to L.A. and signed a publishing deal as a songwriter with Dr Luke's "Prescription Songs". Before her "Tick Tock" fame, As well as working as a backing vocalist, Kesha wrote many commercially released songs including "This Love", by Australian group The Veronicas, and "Disgusting" by Nickelodeon star Miranda Cosgrove.