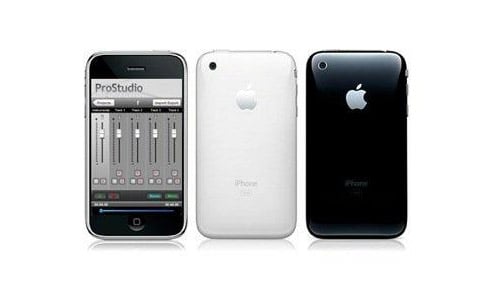 For any smartphone-wielding songwriter, there are an incredible amount of apps available to you to keep you active in your craft while you are on-the-go.
While many apps are developed as a DAW (Digital Audio Workstation), which gives you a full suite of functions - drum pad, keyboard, mixer - others have taken the opposite approach, opting to offer several, far simpler, lighter and less expensive apps to the songwriting market.
Prostudio is of the latter and has excelled at offering a suite of apps, all of which cater to the many needs of the songwriter on-the-go. In this review, we will focus in on two specific apps in the ProStudio catalog - ProstudioReverb and ProstudioRhymes - both of which are available for iOS devices.
ProstudioReverb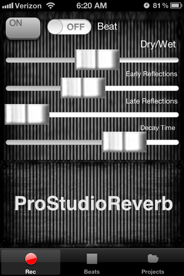 Clearly made with the hip-hop/ R&B community in mind, the ProstudioReverb app does one thing and one thing only - and it does it extremely well.
This app will allow you to import a beat that you have made from your iTunes Library (you can also purchase the ProStudio Beat Library for $9.99), and record your vocals over the beat with a high-quality reverb effects over the recording to give it a far more professional feel.
While ProstudioReverb is laid out very simply so that anyone could import a beat (or song), and record the vocals with reverb until it sounds just right, I did find it difficult to know what the correct amount of reverb should be. This is unfortunately the biggest draw back of this app - you have to set the levels of reverb before recording your vocals. In other words, you are not given the option to tweak the levels of reverb after the recording is made which may steepen the learning curve.
However, while some may see this as downfall to the ProStudioReverb app, the fact that these reverb effects are set in place before the recording and not just applied afterward is the sole reason they sound so good. It may just take some experimentation and practice to really nail how to use each of the four main reverb settings (Dry/Wet, Early Reflections, Late Reflections, Decay Time), but once you get there, this app can be powerful.
And of course, once you nail down the recording you want, you are given the options to Bounce the song directly to your phone as an .m4a file, email the track as a .wav file or upload it directly to a linked SoundCloud account.
Purchase ProstudioReverb from the App Store.
ProStudioRhyme
Once again ProStudio offers an app that is very narrow in the scope of it's capabilities, but it also does this one function with incredible accuracy. This time around, ProStudio has created a simple rhyming dictionary app that could be utilized by any songwriter.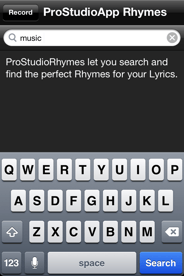 The process is quite simple; load up the app, type in the word you are trying to rhyme with into the search bar, and viola, you are immediately given highly accurate results, starting with words that have the most obvious rhyme scheme based on the amount of syllables in the original word, and then the list will variate into words that either force the rhyme or have far more or less syllables, but could still work.
One example I tried was 'music'. My first results were words such as 'cubic', 'rubric', and 'tunic', but then I was greeted with words like 'acoustic' and 'psychotherapeutic'.
While the amount of results given back will greatly vary depending on the word you input - my time with the app showed search results ranging from 15 results to over 100 results - it appears that ProStudioRhyme will search up and down the English language to find every possibility available to you.
With an app that performs such a basic function, but does it at such an incredible rate of accuracy, there truly was no downside to my experiences with the app and would strongly recommend it to anyone who writes lyrics, on the go or otherwise, as it may help you to greatly expand upon your ideas.
Purchase ProstudioRhymes from the App Store.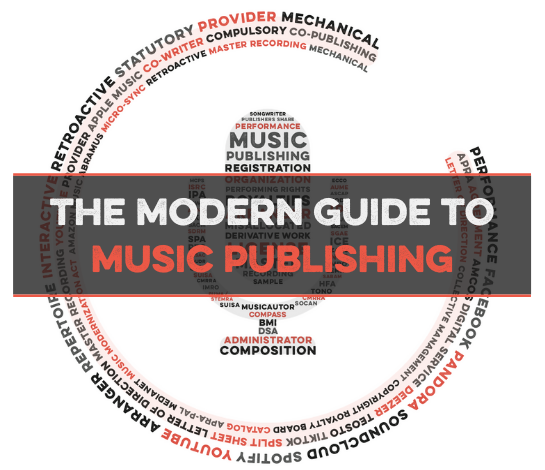 Take control of your publishing. Maximize Songtrust for your songs and business.
We created this guide to answer a simple question: How do songwriters support themselves?
The answer is not as simple as we'd like, but our goal is to make it as clear, transparent and understandable as we possibly can.
Songtrust is more than just a rights management platform and publishing administrator - we're a team of experts in the music community who strive to educate, support, and provide thought leadership to creators, representatives, and businesses across the music industry.
Our hope is that you'll finish this guide with an better understanding of the business behind songwriting and have actionable resources to help you be successful.