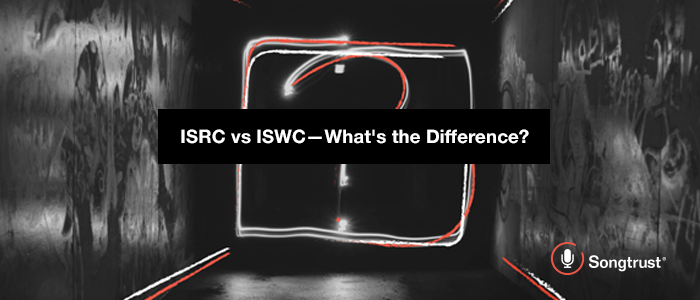 The music industry is full of acronyms - ASCAP, BMI, IP and DSP are just a few. As a songwriter, you probably know about PROs (performance rights organizations) like ASCAP and BMI, but you may not know the terms ISRC or ISWC, or even what they mean – and that these two acronyms can have a major impact on collecting your royalties.
What is an ISRC?
The International Standard Recording Code (or ISRC) is an identification system used around the world to catalogue all genres of sound recordings. An ISRC is a 12-character alphanumeric code/unique identifier (ie. US-S1Z-99-00001) assigned by a record label, distributor, or sound recording owner to a recording or audio file performed by an artist or band. It verifies the artist name, track title, album name, label name and Universal Product Code (UPC). The same ISRC applies to a recording whether it's released as an MP3 or on a CD. Each recording should only have one ISRC, but one song can have multiple ISRCs if the song has been recorded, remixed or edited more than once.
Do I need ISRCs?
If you're planning to sell your music, probably. Publishers, collection societies and music services use ISRCs to match master recordings to underlying compositions. If your ISRCs aren't being sent to collection societies, services like Spotify might not know who to pay when your songs are streamed.
How do I get them?
If your label or distributor doesn't take care of it (though most will), any independent artist or band, label, or music distributor can visit USIRC.org, which is run by the Recording Industry Association of America, to fill out a form. Then, you pay an $80 one-time fee and receive access to an online account with a registrant code and a 2-letter country code.
Do I need a new ISRC for a remix?
Though the rights holders may be the same as those of the original recording, the remix gets its own ISRC. Any unique audio file will have a unique ISRC.
What is an ISWC?
The International Standard Work Code (ISWC) is an 11-character alphanumeric code or international identification system (ie. T-123.456.789-Z) cataloguing works of all genres. It functions a lot like the ISRC does, but for compositions instead of recordings. An ISWC is an identifier usually assigned by a PRO like ASCAP to a musical work. It tracks the song title, songwriter(s), music publisher(s), and music publisher(s) ownership share(s).
Do I need a new ISWC for multiple versions?
A musical work only gets one ISWC, even if it's an arrangement of or adaptation of the first version. An ISWC can be linked to an infinite number of ISRCs, while each ISRC is linked to a specific recording. An ISWC helps those who wish to use your music distinguish your song from similarly titled songs, too.
How do I get one?
ISWCs are assigned by PROs when your songs are registered. You can also get one by visiting the ISWC International Agency. In the US, ASCAP is the official ISWC issuance agency, but you can request an ISWC from the society whether or not you're a member.
To make sure you're collecting all of your royalties with the right ISRC's and/or ISWCs', register with Songtrust today!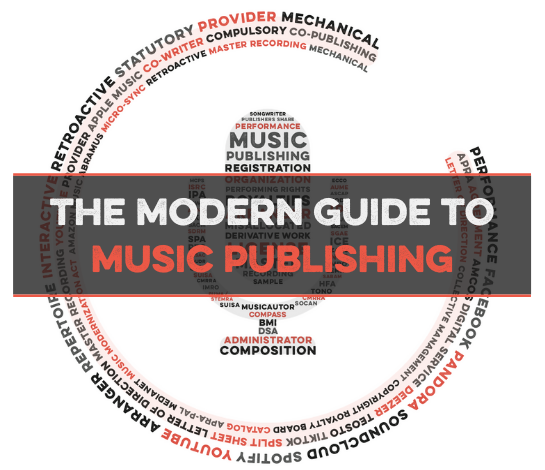 Take control of your publishing. Maximize Songtrust for your songs and business.
We created this guide to answer a simple question: How do songwriters support themselves?
The answer is not as simple as we'd like, but our goal is to make it as clear, transparent and understandable as we possibly can.
Songtrust is more than just a rights management platform and publishing administrator - we're a team of experts in the music community who strive to educate, support, and provide thought leadership to creators, representatives, and businesses across the music industry.
Our hope is that you'll finish this guide with an better understanding of the business behind songwriting and have actionable resources to help you be successful.
Related Articles
Industry Insight, Guest Column