This post is the first in what we hope becomes a long and useful tradition of Songtrust as an educational resource for songwriters looking to take their careers to the next level. Looking forward to you comments and to always helping you take control of your music publishing!
As the music industry continues to evolve and the methods for creating and distributing content changes, the role of songwriters and artists in determining how much income they earn is growing. Songwriters and artists can be increasingly proactive in finding more revenue streams for themselves. Here are a few strategies for upping your royalty income. Stick with us for more tips in each of these categories.
Join a PRO and register your work.
Performing Rights Organizations (PROs) have your back. Become a member of ASCAP, BMI, SESAC or one of the PROs in your country, register your songs and wait for the money to roll in. If you're also a recording artist, register with SoundExchange to collect royalties from online streaming, satellite radio, and digital cable. PROs are collection societies for public performance royalties, so they will keep track of the money you're owed, chase it down and send you checks on a regular basis. In fact, most songwriters are owed more money than they're aware of. You can become a member of a PRO by applying through its website. You'll have to pay them a nominal fee, or you can sign up with Songtrust and we cover their fees and track your royalties for you.
Write your own songs.
Sure, sharing is caring, but when it comes to songwriting royalties, sharing is not your friend. Write your own songs as much as often as possible and try to avoid covering songs. You can easily multiply your royalties by having 100% of the credit, as opposed to sharing them with other songwriters. It's a little cold, but it's the truth.
Sell your songs to other performers.
Recording and performing your own songs is great, but sometimes getting other performers to sing your songs works better. Plus, it's an extra way of earning royalties. Did you know R. Kelly wrote Michael Jackson's megahit "You Are Not Alone"? And you may not have heard of Stephanie Bentley and Holly Lamar…but they wrote Faith Hill's massive hit "Breathe." Get other artists to sing your songs and you'll be earning royalties forever. Try songwriter classifieds like The Muse's Muse and referral services like Taxi's Musicians Junction to meet performers looking for songs.
License your songs for use in Film, Television, Advertising or Video Games
Sometimes selling out isn't so bad. A great way to earn good money quickly is to license a song (or several) to be used in commercials, or in TV, film or video games. You'll often get paid an up-front "sync license" fee directly by whoever is using your music as well as public performance royalties whenever it's broadcast. And not only will you get money, you'll also get bragging rights. Not to mention, it's a great way to get more people to pay attention to your music. Apple's iPod and Mac commercials have been to known make some careers, as have inclusions on soundtracks to movies like Juno and Twilight. Signing up for Songtrust makes it much easier to attract the attention of music supervisors who place music in TV, film, or video games and to execute a good deal once they're interested. So better get to a-licensin'.
Distribute your songs to online streaming services/Internet radio.
Now I'm not gonna get into the reasons why this happens, but traditional radio is pretty much dominated by your Drakes, your Rihannas, your GaGas, your Katy Perrys. Online streaming services and Internet radio, however, are far more democratic. In fact, according to Pandora co-founder Tim Westergren, 90% of Pandora artists have received airplay on the service in the past month. And to make things even better, Internet radio companies are paying millions of dollars to songwriters for their work. One of the surest way get your songs included in some of these services' catalogs is to work with a digital distributor like Tunecore. Another way is to submit your music yourself. Visit these pages for information on how to submit your music: Pandora, Rhapsody, MOG.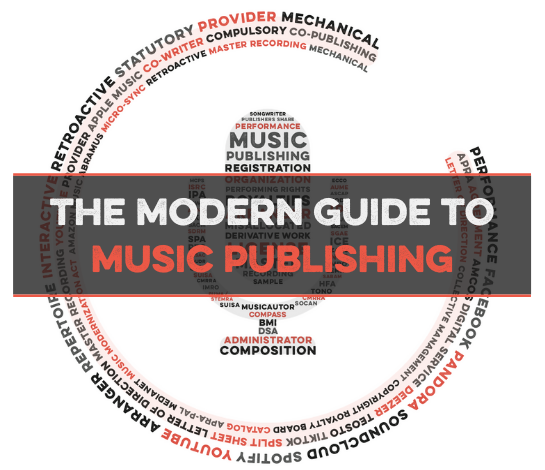 Take control of your publishing. Maximize Songtrust for your songs and business.
We created this guide to answer a simple question: How do songwriters support themselves?
The answer is not as simple as we'd like, but our goal is to make it as clear, transparent and understandable as we possibly can.
Songtrust is more than just a rights management platform and publishing administrator - we're a team of experts in the music community who strive to educate, support, and provide thought leadership to creators, representatives, and businesses across the music industry.
Our hope is that you'll finish this guide with an better understanding of the business behind songwriting and have actionable resources to help you be successful.