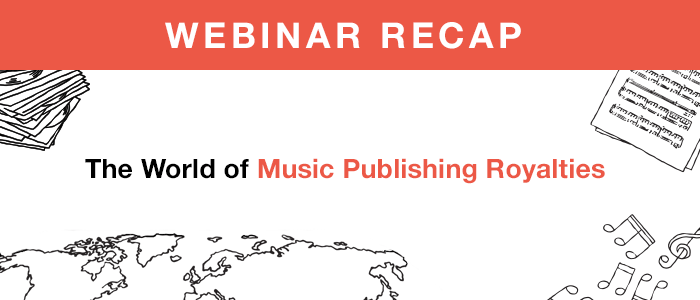 Throughout November and December, we held a webinar series revolving around The World of Music Publishing Royalties. Over the course of five sessions, hosted by Songtrust's own Noelle Gambuti and Elizabeth McBride, Publishing Specialists, and various special guests, we dove into the major themes of music publishing royalties. We covered topics from the types of royalties your song can earn you to specialized royalties like YouTube and streaming royalties. The turnout was tremendous and those that attended asked a lot of excellent questions.
Below are the sessions we held and what was covered by our hosts. We're including a few of the questions asked during our Q&A and the answers below. You can watch the entire webinar series and download extended slides by clicking on the button below.
Session #1 - What Are Royalties?
In this session, we covered the basics of understanding music royalties from when a songwriter begins to earn royalties, the difference between composition and recording royalties, and why the world of publishing takes so long to payout these royalties.
Session #2 - Streaming Royalties
In this session, we discussed what streaming royalties are and who collects them, what the basic streaming payout rates are and who sets those, as well as some tips to help songwriters make the most of their streaming accounts.
Session #3 - YouTube Royalties
In this session, we dove deeper into the world of YouTube and the royalties earned from your songs being used in video content around the world. Topics covered included the basics of micro-sync royalties, the royalty payout process, and an introduction to Songtrust's YouTube monitor.
Session #4 - Discussing Back-Claiming
In this session, we revisited the types of royalties songwriters can collect and who collects/pays those royalties to songwriters. In addition, we discussed what happens when a songwriter isn't collecting their earned royalties and how they can either collect retroactively or what happens when those royalties enter the black box.
Session #5 - Songtrust's Royalty Dashboard
In this session, we gave a sneak peek into the Songtrust's royalty dashboard. Topics discussed were the royalty payout process and how to make the most of your Songtrust account utilizing the graphing features.
FAQS
How much does it cost to register with Songtrust?
It is a one-time registration fee of $100 when you sign up with Songtrust.
Can you register my setlists for live performance royalties?
For performances in the US, you should submit your setlists directly to your PRO. For performances outside of the US, Songtrust can do so for you.
How often does Songtrust pay out to writers?
We pay out quarterly, meaning you'll get royalty reports four times a year. We are working hard to make sure you see your royalties as soon as they come in and pay out more often than most performing rights organizations or competitors. We typically see a 6-12 month period before writers receive their first royalty statement from us, as societies get the songs and agreement with Songtrust properly set up in their system. After that, as long as your songs are earning royalties, you'll be paid quarterly.
If I'm not registered with a PRO can I still sign up for Songtrust?
Absolutely! We can help affiliate you with the PRO in your territory and, in some cases, save you money on the registration fee associated with that PRO.
Does Songtrust find retroactive royalties?
Societies typically hold onto unclaimed royalties for about 2-3 years before distributing those royalties to their members. Songtrust can collect royalties that have accrued within that time limit.
Does Songtrust collect both performance and mechanical royalties?
Songtrust registers works with PROs and mechanical collection societies all over the world in order to collect both performance and mechanical royalties. We maintain direct relationships with over 40 performance, mechanical, and digital societies globally - the most extensive, accessible publishing networks in the industry.
To make sure you're collecting all your performance and mechanical royalties worldwide, register for Songtrust today!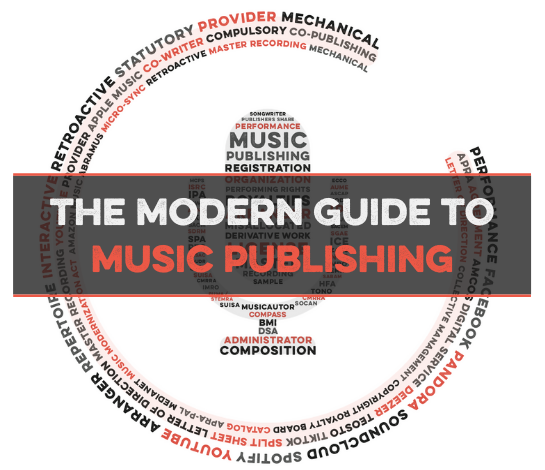 Take control of your publishing. Maximize Songtrust for your songs and business.
We created this guide to answer a simple question: How do songwriters support themselves?
The answer is not as simple as we'd like, but our goal is to make it as clear, transparent and understandable as we possibly can.
Songtrust is more than just a rights management platform and publishing administrator - we're a team of experts in the music community who strive to educate, support, and provide thought leadership to creators, representatives, and businesses across the music industry.
Our hope is that you'll finish this guide with an better understanding of the business behind songwriting and have actionable resources to help you be successful.
Related Articles
Music Publishing Resource, Songtrust Team
Music Publishing Resource