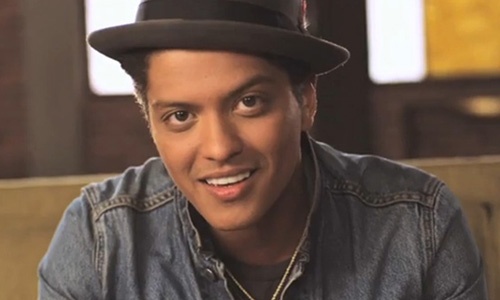 Peter Gene Hernandez, more commonly referred to as Bruno Mars, is a versatile songwriter and producer. Born in Honolulu, Hawaii into a family of musicians, Mars was raised around music. After high school, Bruno moved to Los Angeles after high school and joined the production team, The Smeezingtons.
Bruno signed to Atlantic Records in 2009 after an unsuccessful deal at Motown. He quickly gained popularity by performing and co-writing hooks for the songs, Nothin' on You by B.OB. and Billionaire by Travis McCoy. He also co-wrote the hits Right Round by Flo Rida feat. Ke$ha and Wavin' Flag by K'naan. In October 2010, Bruno released his debut album, Doo-Wops & Hooligans. The record peaked at number three on Billboard, with hit singles Just the Way You Are and Grenade.
Mars has writing credits on major hits such as F*** You by Cee Lo Green, Rocketeer by Far East Movement, Get Sexy by the Sugarbabes, Lighters by Bad Meets Evil, and several of his own songs Marry You, Count On Me, Grenade, and Talking to the Moon.
---
More Songwriter Spotlights:
Max Martin
Dr Luke
Katy Perry
Esther Dean