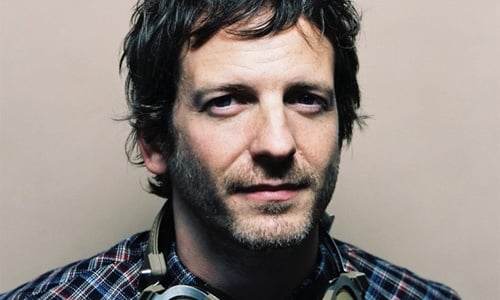 Top Songwriters Chart is the first chart to recognize top songwriters in the US.
Using data from Billboard Radio Songs and Digital Songs charts (full methodology here), Songtrust showcases the immense talents of today's most versatile and successful writers.
At the end of 2011, we published our first-ever chart and now we're kicking off monthly charts: including overall top writers, and those specifically from country and hip hop genres.
---
Overall Songwriting Chart
---
#1
Lukasz Gottwald (aka Dr. Luke) - 8.9 pts (pictured above)
- Good Feelin', The One That Got Away
#2
David Jamahl Listenbee (GoonRock) - 7.1 pts
Stefan Kendal Gordy (Redfoo) - 7.1 pts
- Sexy And I Know It, Party Rock Anthem
#3
Adam Richard Wiles (Calvin Harris) - 6.4 pts
- We Found Love
#4
Erin Beck - 5.6 pts
George Matthew Robertson - 5.6 pts
Ken Oliver - 5.6 pts
- Sexy And I Know It
#5
Peter Gene Hernandez (Bruno Mars) - 5.4 pts
- Young Wild & Free, It Will Rain
---
Country Songwriting Chart
---
#1
Luke Robert Laird - 5.4 pts
- Drink In My Hand, You
#2
Nicholas Cowan - 3.6 pts
Wyatt Durrette III - 3.6 pts
Zac Brown - 3.6 pts
- Keep Me In Mind
#3
David Brent Nail - 3.2 pts
Jonathan David Singleton - 3.2 pts
- Let It Rain
Eric Church - 3.2 pts
Michael Patrick Heeney - 3.2 pts
- Drink In My Hand
#4
Gerald Dallas Davidson - 3.1 pts
- I Don't Want This Night To End, We Owned The Night
#5
Benjamin S. Hayslip - 2.7 pts
- I Don't Want This Night To End, I'm Gonna Love You Through It
---
Hip Hop Songwriting Chart
---
#1
Kanye Omari West - 5.9 pts
- Ni**s In Paris, Party
#2
Olubowale Victor Akintimehin (Wale) - 4.9 pts
- That Way, Lotus Flower Bomb
Onika Tanya Maraj (Nikki Minaj) - 4.9 pts
- Make Me Proud, You The Boss
#3
Aubrey Drake Graham (Drake) - 4.8 pts
- Make Me Proud, She Will, Headlines
#4
Tyler Mathew Carl Williams - 4.4 pts
- Make Me Proud, She Will, The Motto
#5
Jerrin Howard - 4 pts
Miguel Pimentel (Miguel) - 4 pts
Samuel Dew - 4 pts
Walker Johnson - 4 pts
- Lotus Flower Bomb