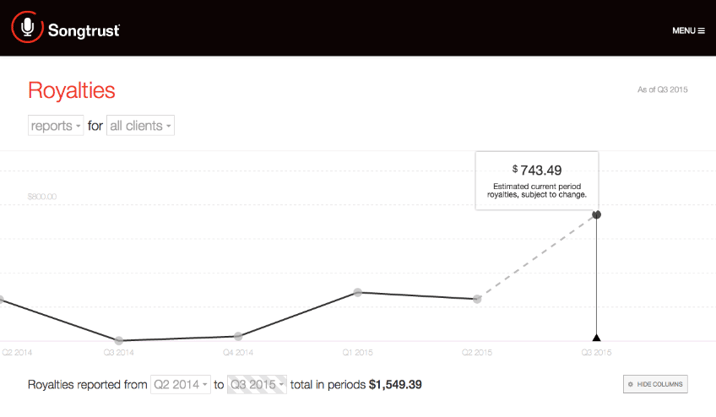 New York, NY (October 30, 2015) - Songtrust, a top music publishing administration start-up, is announcing a new feature for client royalties. In an effort to make royalty collection as transparent as possible, Songtrust now shows royalty information for the upcoming quarter as soon as we find them with this new tool.
These numbers are subject to revision based on adjustments from royalty income sources(i.e. a PRO, label, or digital service provider discovering incorrect payments or some other clerical error) but are a good estimate of what you will be reported to in your next statement. To see what your next quarter earnings are you can either click here or click on the drop down menu, select the royalties tab, and view current earned royalties and any next quarter royalties. If you're a brand new client or even if you've been around for awhile this feature helps you see what's coming your way so that you can focus on making music.
Dillon McKeever, Publishing Operations Coordinator of Songtrust says, "I'm so excited to see this new feature come to life after many years in the making. We always strive to create the most innovative and user friendly technology for our clients, and a lot of hard work went into making this a reality. By implementing this tool, our clients will have a faster and more transparent view of their earnings months before they are paid. We know how difficult it can be to plan a new tour, record a new album, or do promo, so we really hope this can help our clients better manage their cash flow. This is truly a big step for Songtrust and our amazing songwriters!"
Have any questions? Contact the Songtrust team (help@songtrust.com) or hit us up on twitter @songtrust
About Songtrust
Songtrust is a cloud based music publishing royalty collection service that helps those who own or administer musical compositions. Songtrust collects royalties for over 350,000 copyrights for over 50,000 songwriters. Songtrust's clients include writers, publishers and their agents directly as well as B2B partners like The Orchard and CDbaby.