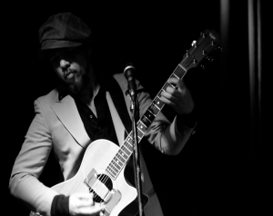 Songwriters, bookmark this one: a new blog dedicated to the craft of songwriting from Scot Sax, an ASCAP award-winning songwriter. Along with founding the major-label '90s power-pop band Wanderlust, Sax wrote and performed the 1999 track "I Am The Summertime" for the American Pie soundtrack, and co-wrote the 2005 Grammy-winning hit "Like We Never Loved at All" for Faith Hill and Tim McGraw. He has toured with Robert Plant and Alison Krauss, and opened for The Who.
In short, Sax knows what he's talking about—which is why he now also teaches songwriting courses at Philadelphia's University of the Arts. The music industry vet signed with Downtown Music Publishing in 2011, and recently had his song, "Love Is A Simple Song," selected for the forthcoming film 16-Love.
Sax plans to update his freshly launched blog on a weekly basis. For now, head over and check out the first post, which offers five songwriting tips—like what to do if your stuck on a line, how to write a great chorus, and the benefits of always having a sense of humor.