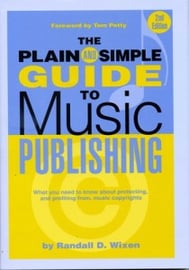 This is the first installment of a new Songtrust series that will highlight essential books on music publishing.
If you need some convincing that industry expert Randall Wixen's book, The Plain and Simple Guide to Music Publishing, is an essential read for anyone interested in making a living through music, look no further than the book's foreword, penned by Tom Petty.
"To this day I do not own the copyrights to my first few records," Petty writes. "How could this happen? It's simple. I didn't have Randall Wixen's book!" After starting his first publishing company in 1978, Wixen has gone on to manage publishing for artists like Neil Young, The Doors, and Jackson Browne.
Written in easy-to-digest plain English, the 200-page guide—originally published in 2005, and now in its second edition—is detailed but highly graspable, and explains copyright basics, mechanical royalties, performance rights, types of publishing deals, sync rights, and "the value of music." It goes over how to earn royalties when your songs appear in advertisements, video games, ringtones, and karaoke, and also includes a chapter titled "DIY" on how young musicians can protect their works during their formative years.
"Even today, you'll find precious little of this information made simple for the guy on the street. Why?" Petty continues. "Because music publishing is still one of the greatest scams for ripping off an artist ever created. I am far from alone in having to pay the price of an education in the music business." He later describes Wixen's text as "a book that could be the most valuable writing partner you'll ever hook up with."
Grab The Plain and Simple Guide to Music Publishing on Amazon here, and be sure to check out the "Free Advice" on publishing Wixen offers up on his site.