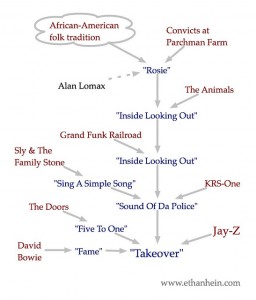 "Why does folk music collector Alan Lomax have a copyright interest in 'Takeover' by Jay-Z?" It's an intriguing question that music tech blogger Ethan Hein answered last month in a blog post that's worth a read. Hein came across the question in Creative License: The Law and Culture of Digital Sampling, the companion book to the documentary Copyright Criminals.
The root of the Lomax/Jay-Z situation lies in a tiny, one-line sample in "Takeover," which came from "Sound Of Da Police" by KRS-One. But through a web of sampled riffs, cover versions, and lifted melodies, it's traced back to a 1940s recording of a traditional African-American folk song that Lomax published. Though complex, the scenario solidly shows the importance of registering your songs to keep your rights, in the event that your song should be sampled twenty years down the line.
Check out the rest of Ethan Hein's blog post here. For more, check out Creative License in full.