Earlier this year, we embarked on a unique adventure with the Music Entrepreneur Club, and its co-founders, Damien Ritter and DJ Pain 1. The goal: to bring specialized topics and expertise to creators in areas around the country that don't typically receive the resources needed to succeed. The first leg of the tour included stops in Phoenix, Denver, Las Vegas, Berkeley, and Los Angeles. On the second leg, which we just wrapped up a few weeks ago, the focus shifted to the East Coast, with stops in Atlanta, Washington D.C., Philadelphia, New York, and Boston. Our team specifically shared our expert knowledge of music publishing, arguably the most misunderstood topic in the music industry. Hundreds of producers, artists, and managers that joined us on the road also learned about building momentum in the music business and the importance of networking.
Every time we go to an event, we meet with local creators to learn more about their music publishing experiences and see which additional resources we could provide to help them be more successful. We also gain valuable insight into misconceptions that creators often have about music publishing. Below are a few common misinformed themes we picked up on while on tour:
#1: Your PRO (collection society) collects all of your royalties
We learned that a lot of creators weren't aware that the collection of mechanical royalties is sometimes separate from the performance royalties that their collection society pays out to them. While non-US CMOs (collective management organizations) may collect your mechanical royalties as well as performance royalties, none of the US PROs (performing rights organizations), such as ASCAP or BMI, collect on the mechanical side. Instead, these royalties are collected by mechanical agencies such as HFA (Harry Fox Agency) or Music Reports, which solely focus on the licensing and collection of mechanical royalties. The catch is -- some of these mechanical agencies don't allow independent songwriters to collect their royalties without a publisher. This means there is a totally separate revenue stream that many creators don't have access to if they are only affiliated with a collection society.
#2: Labels and publishers do the same thing
Labels offer a lot of important features to creators, but generally, they don't provide publishing support. Labels and distributors deal with the master recording side of your song, leaving the composition for the publishers to administer. Having both is an ideal situation for a creator and can ensure that you're collecting all of your song's royalty revenue streams. It's important to note that sometimes, labels or distributors will offer a publishing agreement in conjunction with the master recording agreement - in this case, they are acting as publishers as well. While this is not necessarily a bad idea, do be careful when granting both types of rights to the same entity.
#3: Your royalties will wait for you.
We learned that a lot of creators don't know about the notorious royalty black box. Black Box Income, also known as black box royalties, refers to unclaimed royalties that have essentially been sitting around at collection societies, waiting to be collected by their rightful owners. These royalties, generally after a period of 2-3 years, will enter the black box and will be paid out to the top earners based on market share. The realization that artists like Drake could be paid out your unclaimed royalties is an eye-opening insight for many creators. The positive side is this usually urges creators to get their music publishing in order as soon as possible. And we don't blame them -- why would you want to "give away" your hard-earned royalties to artists that never worked on your song?
#4 - You don't need to register your works globally because your collection society will do it for you
It's very important for every creator to be affiliated with their home territory's collection society -- this much is true. However, while some societies have reciprocal deals with other societies in the world, it's not a guarantee that your CMO/PRO will register your work globally and collect the international royalties you'll earn. Their focus is to register, track, and collect the works, first and foremost, for their membership base, which can often be within the hundred thousands. Because every society is different -- with different rules, regulations, and requirements -- having a publisher ensures that creators are fully covered with global registration in order to access all of their royalty revenue streams.
While we encounter a variety of misconceptions such as these on a daily basis, it only adds to how important it is to provide creators with valuable and impactful educational resources. We are proud of the resources we have created so far, but we know that we still have a lot of work to do, not only to demystify the fundamentals of music publishing but also to change the landscape for future creators.
Learn more about accessing what you're due by visiting our music publishing resources: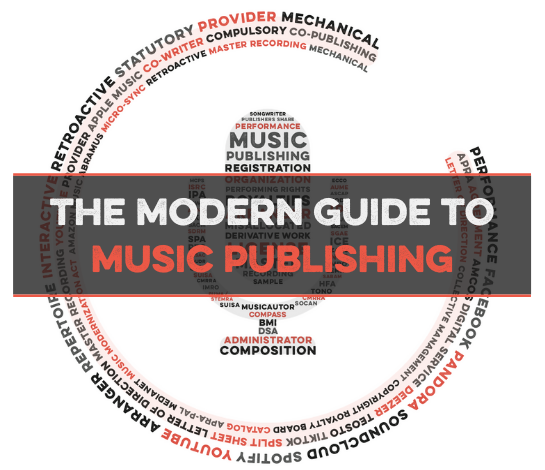 Take control of your publishing. Maximize Songtrust for your songs and business.
We created this guide to answer a simple question: How do songwriters support themselves?
The answer is not as simple as we'd like, but our goal is to make it as clear, transparent and understandable as we possibly can.
Songtrust is more than just a rights management platform and publishing administrator - we're a team of experts in the music community who strive to educate, support, and provide thought leadership to creators, representatives, and businesses across the music industry.
Our hope is that you'll finish this guide with an better understanding of the business behind songwriting and have actionable resources to help you be successful.
Related Articles
Songtrust Team, Event Recap