Songtrust Will Administer the Publisher's Full Catalog For the World Outside of the United States and Canada
Songtrust and Secretly Publishing announced a new administrative partnership today. Songtrust, the world's largest open-access global royalty collection platform, will be administering the full music catalog of Secretly Publishing, including the catalogs of affiliates Ghostly Songs and The Songs of Numero Group, for royalty collections outside of the United States and Canada. Secretly's catalog consists of more than 20,000 musical works, with the publisher representing artists such as Kishi Bashi, Faye Webster, The War on Drugs, Beirut, Grizzly Bear, Jay Som, Durand Jones & The Indications, and Jason Molina, as well as songs recorded by Maggie Rogers, Snoop Dogg, Jay Z, Phantogram, and many more.
"In the same tradition as the Secretly Group labels, our priority as a publisher is to be a transparent partner for the writers we serve, and advocate for the best possible deals. We appreciate that for independent artists, every micropenny counts, and with a small tight-knit team, we are constantly working to improve our systems and find the most efficient approach," said Kathleen Cook, Secretly Publishing Managing Director. "This new partnership with Songtrust will help us do just that. With Songtrust looking after overseas administration and promising thorough collections from every corner of the globe, we can assure Secretly's writers that data will be clean and no stone will be left unturned."
Secretly Group, in addition to Secretly Publishing, includes record labels Dead Oceans, Jagjaguwar and Secretly Canadian. Other affiliates of Secretly Publishing include The Numero Group and Ghostly International. Secretly Publishing, whose prior overseas publishing administrator was Kobalt, has been in a steady period of growth since a reorganization in late 2018 and was recently named to the National Music Publishers' Association's list of top 100 music publishers in the United States.
"I'm thrilled to be working with Kathy and the Secretly Publishing team on administering their tremendous catalog. I have long loved and respected what they do, and their mission to push forward the careers of pioneering independent artists is similar to my own," said Anna Bond, Senior Director of Global Business Development at Songtrust. "By distributing and publishing artists, songwriters, and catalogs that continually push artistic boundaries, Secretly Group and their affiliates have long been a force for creativity and innovation within the independent sector."
Songtrust, the largest open-access music publishing royalty collection network spanning more than 245 countries and territories, brings on Secretly Publishing to a client roster that includes publishers Sub Pop Publishing, ZJs Music Publishing (Average Joes Entertainment), and Songtrust sister company, Downtown Music Publishing. On the songwriter and artist side, Songtrust's clients include Jeremy Zucker, Lele Pons, Vulfpeck, Morgan Page, and Tessa Violet. As an open-access platform for global music publishing royalty collection, Songtrust enables more than 350,000 of its songwriters and music rights holders to collect the royalties owed to them, ultimately creating more equity within the music industry.
About Secretly Publishing
Secretly Publishing prioritizes transparency and remains tireless in their work to cultivate the careers of burgeoning songwriters, canonize catalogs that merit a permanent place in history, and maximize the value of music creators through fair and dynamic dealmaking. Secretly Publishing represents over 20,000 musical works, ranging from songs by independent artists such as The War on Drugs, Grizzly Bear, Beirut, Kishi Bashi, Ric Wilson, Faye Webster, Molchat Doma, Jason Molina, Lonnie Holley, Whitney, Japanese Breakfast and Beach Fossils, as well as the publishing catalogs of affiliates Songs of Numero Group (Syl Johnson, Durand Jones and the Indications, Pastor TL Barrett and the Youth for Christ Choir, Jackie Shane, Unwound, Duster, and more) and Ghostly Songs (works by Tycho, Mary Lattimore, Shigeto, Matthew Dear, Dabrye, and more). Secretly Publishing represents writer shares on songs performed by Solange, J Cole, Common, Pusha T, Lizzo, Maggie Rogers, Vampire Weekend, Snoop Dogg, Jay Z, Kanye West, Phantogram and more. Recent music supervision work includes the Netflix original film All The Bright Places, FX series "A Teacher", USA series "Dare Me", feature film The Last Shift, and the Sundance award-winning documentary feature Feels Good Man. For more information, please visit: www.secretlypublishing.com/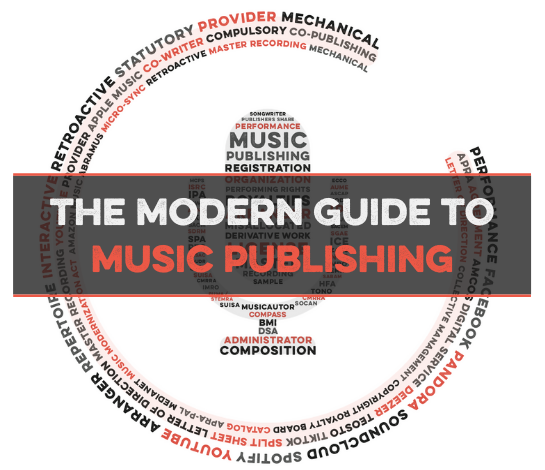 Take control of your publishing. Maximize Songtrust for your songs and business.
We created this guide to answer a simple question: How do songwriters support themselves?
The answer is not as simple as we'd like, but our goal is to make it as clear, transparent and understandable as we possibly can.
Songtrust is more than just a rights management platform and publishing administrator - we're a team of experts in the music community who strive to educate, support, and provide thought leadership to creators, representatives, and businesses across the music industry.
Our hope is that you'll finish this guide with an better understanding of the business behind songwriting and have actionable resources to help you be successful.
Related Articles
Songtrust Team, Guest Post
Songtrust News, Press Release