Armed with a Gibson guitar and a pastel pink pen, HEATHER LAROSE found inspiration in Westchester, New York right on the edge of Manhattan. Never feeling at home in either world, LaRose began writing about her experiences growing up. In late 2019, she relocated to Los Angeles after college and continued working on her writing and sound.

Her latest single "Conan" is a song in response to Conan Gray's multiplatinum single "Heather". Gray's lyrics unfold the story of a hidden love triangle between himself, pining for his best friend and his best friend's girlfriend, Heather. After Gray's track went viral on TikTok, LaRose decided to craft a song taking on the persona of the girl in her namesake's song. Throughout her verses, she depicts the story of a girl who knows that her boyfriend, although unsaid, has feelings for his best friend 'Conan'.

"I decided to write the song after going through a breakup myself. Trying to hold on to that relationship together was tearing me apart. I learned, painfully, that the only way to heal would be letting go. My ex had Conan's song 'Affluenza' purchased on his Apple Music so each time we'd get into his car Conan would start playing. Starting the song with that lyric felt so right to draw the parallel between myself and Conan's Heather."

Since her first release, LaRose has continued to release singles fueled by pure emotion. Her upcoming EP "Party Girl Tears" is inspired by the already-released titular track. It follows LaRose through a dystopian party in the Hollywood Hills paralleling scenes from the party to the brokenness everyone around her is feeling. The EP beautifully unravels people's facades and exposes the duality in all of us, set to (mostly) upbeat melodies.

Heather LaRose has been featured in Forbes, Billboard, and Rolling Stone, and has opened for The 1975, The Killers, Rachel Platten, and more.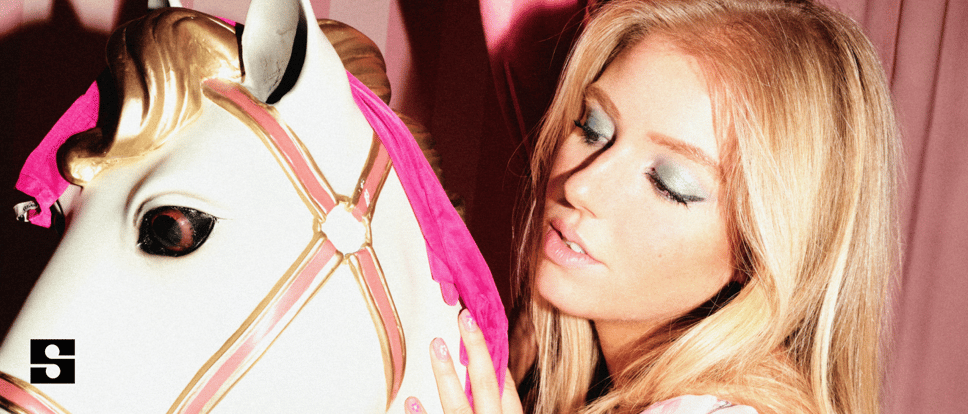 ---
WHAT OR WHO INSPIRED YOU TO GET INTO MUSIC?
I was that little kid who was singing constantly. My grandmother would babysit me, I would ask her to sing me a song over and over again until I had it memorized. She and my grandfather would sing old Frank Sinatra tunes and other classics reminiscent of old New York. I remember being a bit older sitting on her lap watching the 2 Disney VHS she had, The Little Mermaid and Aladdin reenacting them for her as our activity for the day. Then there would be days where we would make up our own songs singing through her house in the Bronx.
HOW WOULD YOU DESCRIBE YOUR STYLE OF MUSIC AND PERFORMANCE? HOW WOULD YOU DESCRIBE YOUR PHILOSOPHY AND STYLE AS AN ARTIST?
I think that pop has always been at the core of who I am as an artist. My first 3 albums ever were from one of those little mail-in subscriptions from the early 2000s. My mom let me pick out ABBA Gold, Pet Sounds by The Beach Boys, and Metamorphosis by Hilary Duff. I think those three records along with Vanessa Carlton's Be Not Nobody really formulated the way I write songs and express myself musically.
As I started pursuing music full-time, I was very heavily influenced by Bleachers and The 1975 so there's always an emphasis on live band performance and directly interacting with them and the audience. My musical philosophy is authenticity. Consistently writing from what inspires me, whether it's something I've just gone through or if it's inspired by one of my favorite tv shows that really emotionally pulls me in.
WHAT DRIVES YOU TO CREATE, AND HOW DO YOU DEFINE SUCCESS FOR YOURSELF IN MUSIC?
I love being able to connect with people. I think shared experiences are at the core of what it is to be a human. As far as success, it can be defined in thousands of ways. But one of my favorite feelings is when I have fans reach out to me about my music and how it's helped them through their struggles.
THROUGHOUT YOUR CAREER, WHO HAS HELPED YOU THE MOST WITH DEVELOPMENT AND SUPPORT?
My parents for sure! My mom is an angel who consistently rallies for me and my dad is literally my biggest hype-man.
SOMETIMES BEING IN THIS BUSINESS CAN BE OVERWHELMING. DO YOU HAVE ANY TIPS FOR MAINTAINING PERSPECTIVE AND NOT SWEATING THE SMALL STUFF?
Oh. My. God. I wish I was better about not sweating the small stuff. In all honesty, the small stuff is what I sweat most! One thing that really helps my mindset is looking at business as unlimited opportunities rather than thinking that if one particular music opportunity doesn't hold the future of my career in jeopardy.
DO YOU BELIEVE IT'S IMPORTANT FOR CREATIVES TO TRY OTHER FORMS OF ART IN ADDITION TO THEIR OWN? HAVE YOU LEARNED OR GAINED ANY NEW SKILLS FROM ONE ART FORM -- SAY IN FASHION -- THAT'S INFLUENCED ANOTHER, LIKE YOUR MUSIC?
Two of my favorite artistic passions are painting and cooking. With painting, I feel like it's the visual equivalent of writing song lyrics where you can actually see through another person's eyes. But there's nothing better than a good meal to bring people together so I love hosting dinners and even throwing murder mystery parties at my house.
DO YOU HAVE ANY ADVICE FOR YOUNG MUSICIANS JUST STARTING THEIR CAREERS, BASED ON WHAT YOU'VE EXPERIENCED?
You have to forge your own path. So many people are going to give you conflicting information about the industry and "making it." What I love about the current climate of the music industry is that there is a market for anything. If you love what you're creating, there's a market for it. Don't listen when people try to box you into an idea of what they want you to create.
WHAT MOTTO, AFFIRMATION, OR QUOTE EMPOWERS, INSPIRES, OR MOTIVATES YOU?
When you're forged in the fire, you come out hotter.
FOR FUN, IF YOU WERE STRANDED ON AN ISLAND AND COULD ONLY HAVE (3) ITEMS WITH YOU, WHAT WOULD YOU BRING?
I'd bring a magic fridge that restocked every morning so I wouldn't have to hunt. A giant aquatic bouncy castle so I could have fun but then potentially use it for shelter, and my guitar.
WHAT DO YOU HAVE COMING UP NEXT?
On December 5th, I'm announcing my song "Conan" which is my response to Conan Gray's song "Heather". The song follows Heather's point of view in the love triangle that Conan created. Through the verses, Heather realizes that she and her boyfriend aren't connecting in the way that she hoped. Although she's trying her hardest, Heather can't fight the notion that Conan and her boyfriend have a more meaningful connection than hers.
HOW DID YOU COME TO SONGTRUST?
One of my really good friends started working at Songtrust right after college! While we were just getting started on our New York City adventures, I visited the headquarters and learned about the company. After speaking more with the team, I was really excited to start working with Songtrust and making money with my music.
Follow Heather on:
Keep up with Heather and listen to her music on: