Update: The Music Modernization Act has been signed into law on October 11th.
You've definitely heard about it in the news as it's been making waves in the music community for the past year—the Music Modernization Act, or MMA. On the surface it's legislation, written and introduced by Representatives Doug Collins (R-GA) and Hakeem Jeffries (D-NY), that would change the rates and the way mechanical royalties are paid out to copyright owners, and overhaul how the statutory boards and courts regulate collective licensing in the United States. Looking under the surface, this proposed legislation is much more complicated and nuanced, ultimately positively affecting the lives of rights holders, streaming companies, and the music industry for the future.
We don't expect our clients to take our word when we say Songtrust supports the MMA, instead we expect that by educating our community on who it affects, what it aims to change, and what the MMA means for the future, everyone will be better able to make their own decision on whether to support the legislation. To really understand the MMA, you have to know the path it's taken to get where it is today.
Let's Break It Down
Essentially, the Music Modernization Act hopes to modernize what some consider an archaic piece of legislation for a new generation— one where artists, songwriters, and publishers are given more of what they deserve rather than only rewarding those that "make it big". The MMA is a bill to be added to legislation with the goal of establishing a new collecting society, called the Mechanical Licensing Collective (MLC), that would be empowered to provide a blanket license for streaming services to companies, covering mechanical rights in any songs not otherwise covered by a digital company's direct deals with music publishers. It also aims to rethink the way rates are set when a song's rights are licensed by a collecting society in the US—with the ultimate goal of songwriters and publishers earning more for their hard work. Not only for mechanical rights, but also for performing rights!
Where We Are Now to Where We Want to Be
Currently, there are no societies that offer a blanket license for mechanical rights, which often leaves a song to be exploited whenever it is copied. Essentially, this means that those using music have the responsibility of identifying the rights holder(s) of each song they copy to ensure rights holders receive the proper paperwork—which rarely happens. Streaming platforms, which typically exploit both the performing rights and mechanical rights elements of song copyrights, aren't overseeing this process as efficiently as they should—especially since there is no central database that outlines music rights ownership of songs.
The MMA's proposed overhaul of the mechanical royalties system in the U.S. works to offer more than just a more efficient mechanical royalties system. It would also change the way the statutory boards and courts regulate collective licensing in the U.S. and how they set the rates users of music pay.
Who Does It Affect and Who Supports the MMA
Perhaps the most important part of the the Music Modernization Act is who it affects and, ultimately, how it'll affect them. Music owners and music users will be benefit most from the MMA. Although the changes will be paid for by digital services, the new Mechanical Licensing Collective will be run by music publishers and songwriters. Music owners and music users will embrace the changes by witnessing change to how Judges are selected to determine royalty rates and how they can be changed. The new collective's board will expand into a 14-seat board of directors and create more clarity on how royalties would be distributed amongst rights holders.
Both rights holders and corporations have offered their support of the Music Modernization Act, including: The Digital Media Association, who represents companies such as Facebook and Spotify; David Israelite of the National Music Publishers Association (NMPA); Justin Kalifowitz of Downtown Music Publishing & Songtrust; performance collection societies such as BMI and ASCAP; Songwriters Of North America and Nashville Songwriters Association International; Republicans Orrin Hatch and Lamar Alexander, and Democrat Sheldon Whitehouse; Songwriters Guild Of America, RIAA, A2IM, Recording Academy CEO Neil Portnow and the National Association of Broadcasters.
The End Goal - Looking To The Future
Although a final decision* hasn't been made on the Music Modernization Act, it's ultimate goal is to totally reform how music is handled under U.S. copyright law, which would "bring music licensing its first meaningful update in almost 20 years". This would be a huge win for music owners, rights owners, and songwriters. With constant support being added from all sides of the industry, Songtrust will continue to empower and support this initiative, as well as our clients. Looking to the future, we'll be looking to the government and the music community to make positive moves to modernizing the music industry as a whole.
*At the time of the original posting, there was no final decision made about the MMA. Below you'll find the updates made throughout the year, including the most recent decision to sign the bill into law.
---
UPDATE (4/26/18)

- On April 25th, 2018, the Music Modernization Act passed unanimously through the House. It was a historic step in the right direction to get songwriters everywhere a total reform on how music is handled under U.S. copyright law.

The bill, HR 5477, passed unanimously with 415 votes. The MMA bill is overwhelmingly supported by the music industry, and has bipartisan support in the house, where it was introduced by co-sponsors Robert Goodlatte (R-VA) and Jerrold Nadler (D-NY). It will bring improvement in four specific areas including:
Improve a dysfunctional mechanical licensing system "that seems to generate more paperwork and attorneys' fees than royalties."

Ensure royalty protection for pre-1972 performances

Provide a statutory right to recognition for adjunct creators, including producers, sound engineers, and mixers

Lack of a unified rate standard for music royalties
UPDATE (5/11/18) - The major music reform package, including the Music Modernization Act (S.2334), the Classics Act (S.2393), and the AMP Act (S.2625), are introduced in the U.S. Senate on Thursday, May 10th, 2018 by Sen. Orrin Hatch (R-UT) and a bipartisan group of supporters.
The bill is expected to have a hearing soon in the Senate where it is expected to be met with little resistance before it moves to the president's desk. We will continue to track it's movements and update accordingly.
UPDATE (9/18/18) - The US Senate has approved the Music Modernization Act of 2018 (S.2334) with unanimous consent. This version of the bill now will go back to the House for approval on all the changes made for Senate approval and then ultimately signed by the President before becoming law. It is expected to do so without much objection, although there are still some pushing against portions of the bill.
Sirius XM objected to a portion of the bill, the Classics Act (S.2393), which would make them legally responsible to pay songwriters and artists royalties on pre-1972 recordings.
Now that it has passed the Senate, the bill has been renamed the Orrin G. Hatch Music Modernization Act. The bill revamps Section 115 of the U.S. Copyright Act, combining three major pieces of legislation:
The Music Modernization Act, which streamlines the music licensing process to make it easier for rights holders to get paid when their music is streamed online.
The Classics Act (Compensating Legacy Artists for their Songs, Service, & Important Contributions to Society Act) for pre-1972 recordings.
The AMP Act (or Allocation for Music Producers Act), which improves royalty payouts for producers and engineers from SoundExchange when their recordings are used on satellite and online radio.
UPDATE (9/25/18) - The Orrin G. Hatch Music Modernization Act, previously known as the Music Modernization Act, has passed in the House of Representatives unanimously following a vote for passage in the Senate last week. The House approved all the changes set forth by the Senate and now heads to the Executive Secretary at the White House. Once they receive the bill, the President then has 10 days (including weekends) to sign it. If he chooses not to sign it, and Congress is still in session, the bill still becomes law.
UPDATE (10/11/18) - The Orrin G. Hatch Music Modernization Act has been signed into law as of October 11th at 12:08pm ET.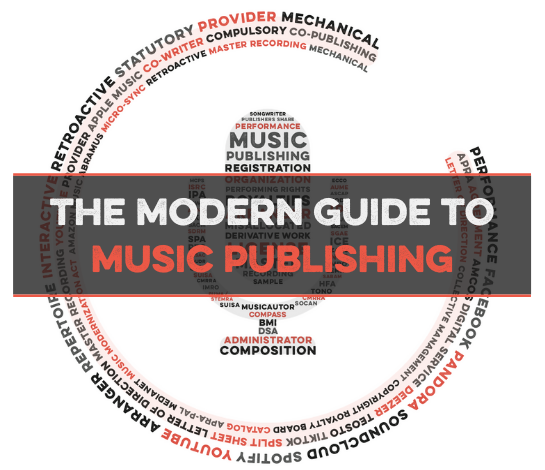 Take control of your publishing. Maximize Songtrust for your songs and business.
We created this guide to answer a simple question: How do songwriters support themselves?
The answer is not as simple as we'd like, but our goal is to make it as clear, transparent and understandable as we possibly can.
Songtrust is more than just a rights management platform and publishing administrator - we're a team of experts in the music community who strive to educate, support, and provide thought leadership to creators, representatives, and businesses across the music industry.
Our hope is that you'll finish this guide with an better understanding of the business behind songwriting and have actionable resources to help you be successful.
Related Articles
Music Publishing Resource, Music Business
Music Publishing Resource, Music Business