An Interview with Bill Werde of Full Rate No Cap
"I've always been kind of obsessed with what's next," Bill Werde told me, when I asked about his career choices and why he's become a particularly trusted music industry reporter on the current state of the music industry and its often-uncomfortable relationship with technology. Werde reports both as a freelancer and with his buzzy industry newsletter, Full Rate No Cap. (Side note: if you are not a FRNC subscriber, stop reading and go do that now.) A former editor of Billboard, Werde directs the top-rated, undergraduate Bandier music business program at Syracuse University, and also co-directs the Audio Arts graduate program there.
Werde got a lot of attention when he examined Spotify's assertion that 60,000 songs are uploaded to its platform every day — a metric widely shared in the press and on social media after the company's "Stream On" event. Based on changes in Spotify's own reported total track numbers, Werde's math brings the daily total to more like 23K. Still a lot — but about a third of the widely-shared claim. The next edition of the newsletter went further, claiming these "track" numbers include multiple versions of the same song — e.g. remixes, radio edits, clean versions — as well as nature and meditation sounds that aren't necessarily music at all.
One industry source suggested to Werde that Spotify fields 60K uploads per day but is netting 23K due to takedowns - meaning 37K tracks are taken down every day - which he rightly said would be "insane." (And perhaps an even bigger story?) The truth about this statistic is still awaiting Spotify's comment.
Music Business Worldwide covered Werde's claim, adding that nearly 80% of the artists releasing music on Spotify have fewer than 50 followers on the platform. This brings the number of tracks released by artists with any sort of audience daily to 5000, and if we assume each artist is uploading five tracks, that means musicians are competing with 1000 – at most – other acts for attention on a given day. And it's likely much smaller, because that number still includes all the remixes, regional duplicates, rain sounds, guided meditations, etc., mentioned above.
Songtrust sat down with Werde to talk about this statistic, where the business has been, where it may be going, and why the only way forward is for the business to do what is best for artists.
WHY IS IT IMPORTANT THAT MUSIC CREATORS — ESPECIALLY THOSE WHO ARE EARLY IN THEIR CAREER — KNOW THE TRUTH ABOUT THIS STATISTIC AND WHAT IT MEANS?
Bill Werde: Something that has changed in the last 20 years is that we have so much access to so much information, which creates a lot of misinformation.
One of the reasons why I started sharing headlines and analyses with my students was that I wanted them to have credible information. If you're out there on Twitter on a random Wednesday night, and people are talking about the music business in Web3 panic time, the chances that you'll get about 80% BS is very high.
I think that it benefits certain status quos to have independent artists believing that there is just an ocean of music being uploaded every day. Because that encourages artists to feel more helpless…. It makes artists think that there are these experts out there that have what's required to break through all this music that's uploaded every day.
Is [1000] still a lot of songs? Yeah. But we can go farther and make it even more segmented… [Then] it becomes much, much more manageable and gives artists more information to make decisions, and determine what they really need, [rather than] believing this panic narrative.
BEYOND STREAMING AND DIGITAL MUSIC IN GENERAL, AS WELL AS THE DOUBLE-EDGED SWORD OF SO MUCH INFORMATION, WHAT DO YOU THINK IS THE BIGGEST CHANGE TO THE MUSIC BUSINESS SINCE YOU'VE BEEN A PART OF IT?
BW: The two biggest differences are the quality and accessibility of home recording and the ease of self-distribution. Though this hasn't killed the gatekeepers at all; I hate when people say that the major labels are dead.
No one needs a major, but if you [look at] the Billboard Hot 100, almost everyone is still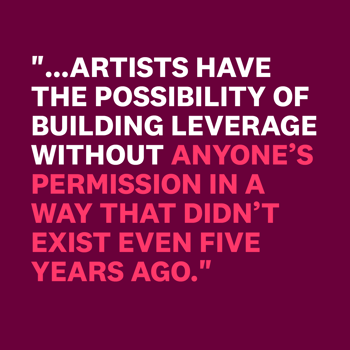 connected to a major label in some way…What these changes have come to mean is that artists have the possibility of building leverage without anyone's permission in a way that didn't exist even five years ago.
I think what we're seeing is not the end of the label, but artists using their leverage to change the role of the label and what the artist can credibly claim. You see a lot more 50/50 deals; you see a lot more deals that look like real partnerships.
If you're already to the point where you've built that audience, then the value of the label is real, but it's not what it used to be. If you want to be the biggest artist in the world, then you absolutely need a major label and a whole team of people working with you who are experienced in creating the biggest star in the world.
But if your goals are almost anything else, you have options…Those options often get overstated by the tech community, when they say 'everyone can be their own fill-in-the blank.' Like you can just use our tools and [that's all you need].
This assumption that artists are naturally great at marketing themselves, strategically planning, collecting the bills, routing their tours, being their own manager...It's absurd. It's really, really hard. The skillsets of being an amazing musician, a phenomenal singer or songwriter — there's nothing about those skills that [make you] a phenomenal marketer necessarily."
ABSOLUTELY. SOME ARE AMAZING AT COMMUNICATIONS, SOCIALS, AND VISUALS, BUT THIS IS A REALLY IMPORTANT POINT. IF YOU WANT TO RELEASE YOUR RECORD AND HAVE AN IMPACT, THERE'S A LOT OF EXPERTISE, AND A LOT OF PEOPLE YOU HAVE TO PAY. WHO'S GOING TO HELP YOU FIND A PUBLICIST AND A BOOKING AGENT? KNOW WHERE TO ADVERTISE? HOW DO YOU KNOW HOW MUCH MONEY TO SPEND ON PROMOTION AT ANY GIVEN TIME, WHAT'S THE BEST SINGLE FOR RADIO AND WHEN TO RELEASE IT? IT'S NOT THIS BLACK AND WHITE THING WHERE THESE CORPORATE ENTITIES USED TO CONTROL THE MEANS OF PRODUCTION AND NOW THE WORKERS ARE RISING UP; IT'S THAT THERE ARE PEOPLE IN THESE JOBS WHO KNOW WHAT THEY'RE DOING AND IT WOULD BE A FULL-TIME JOB TO RUN YOUR OWN RECORD CAMPAIGNS. OR LIKE WE ALWAYS SAY AT SONGTRUST, TO FULLY ADMINISTER YOUR OWN PUBLISHING.
BW: And to be honest, it's probably more than one full-time job…[And] we don't only want the loudest social media voices to be getting their music heard. It's a bit of a Catch-22. There are exceptions of course, but if you look at where the A&R dollars are going in the industry, they're going to artists with a footprint.
I WAS ON A PANEL WITH MELANIE SHEEHAN — WHO RUNS ROUGH TRADE RECORD IN THE U.S. — ON A SIMILAR TOPIC, AROUND ARTIST LEVERAGE. SHE SAID IF THE EXPECTATION IS THAT THE ARTIST IS GOING TO BE HEAVILY ENGAGING ON SOCIALS AND POSTING ALL THE TIME, THEY WILL ASK FOR MORE MONEY OR A BETTER DEAL, SIMPLY BECAUSE THEY'LL BE PROMOTING THE PRODUCT THE LABEL IS SELLING. IT'S WORK THEY'RE DOING THAT HISTORICALLY WOULD GO TO THE LABEL'S MARKETING DEPARTMENT, SO THAT ALSO CREATES MORE LEVERAGE.
BW: When streaming emerged, a lot of people were saying it's going to democratize the music business because now everyone can 'break through' without a label. And then people realize, well there are all these people uploading so many tracks; how can I break through this? So it goes back to needing a label, needing someone to help. Like how does [an artist] create their own breakthrough?
In the last couple of years, TikTok has had a massive impact. I always say that Spotify is the warehouse, but TikTok is the storefront. Suddenly listeners could see artists in a different way, and form attachments. You didn't really see mass changing of record deals on the major label level until TikTok became a platform.
Because it was really the first time where artists were popping off left and right. Seemingly, every week there was a new thing that was blowing up and it was independent of schedule; it was independent of planning. It was independent of almost anything.
YOU'D SEE RANDOM ALBUM CUTS OR SONGS THAT WERE 10 YEARS OLD GOING VIRAL.
BW: Yes, and suddenly that's the buzzworthy song. And I think that really changed the game for artist leverage in a much more needle-moving way than 10 years of Spotify did. But then the randomness of that brings in its whole own host of problems.
MY COLLEAGUES AND I WHO READ FRNC ARE HUGE FANS. STANS, EVEN. WE CALL OURSELVES FRANC-HEADS. WE DON'T, I JUST MADE THAT UP, BUT I'M GOING TO START IT NOW. SO WE HAVE TO ASK: WHY DID YOU START THE NEWSLETTER? AND WHAT ARE YOU LOOKING TO SHARE THAT OTHER INDUSTRY SOURCES DON'T? YOU'D SEE RANDOM ALBUM CUTS OR SONGS THAT WERE 10 YEARS OLD GOING VIRAL. WHAT DO YOU THINK ARE THE MOST IMPORTANT THINGS FOR MUSICIANS OF ANY TYPE — COVER SONGS ON YOUTUBE, SELLING BEATS, PRODUCING HIP-HOP, SINGLES, WRITING COUNTRY SONGS, TOURING THE WORLD AS A PERFORMING ARTIST, ALL OF THE ABOVE — TO KNOW ABOUT THE INDUSTRY NOW, AND WHAT SHOULD THEY BE THINKING ABOUT IN THE SHORT-TERM FUTURE?
BW: In the [Syracuse] program, we meet every Monday and have what we call 'convo,' where we're primarily talking about trends in the business. We talk about headlines each week, and it's really about getting people comfortable with discussing these topics. [Eventually] I started aggregating headlines and throwing in a bit of analysis, and it reached a point where I was basically making a newsletter without making a newsletter.
I'm preparing students to go off into an industry in one-to-three years, so I need them to really understand where the trends are pointing, and find out how to think critically about the sources. Like [the Spotify stat]; there's so much information out there, and it's too easy to take things at face value. So a lot of it was about helping focus the embarrassment of riches of information that's out there.
It started to evolve for me. Number one, much of the most powerful music business media is consolidated under Penske Media now, and I'm not saying that with any hint of accusation. I think that Billboard is doing the best work they've ever done. Hannah Karp is absolutely amazing at what she does. But at the same time, Billboard, Variety, Rolling Stone, they all roll up into Penske.
And there are some independent voices out there doing amazing work. I love what Cherie Hu does with Water & Music; I love Trapital, My Morning Coffee, and the Trichordist. There is so much out there, and I wanted to showcase independent voices as much as possible.
I don't monetize it. I'm interested in earning revenue so I can create some impact in the world — turn it into a scholarship, grants to independent artists, or help local Syracuse schools.
WHAT DO YOU THINK ARE THE MOST IMPORTANT THINGS FOR MUSICIANS OF ANY TYPE — COVER SONGS ON YOUTUBE, SELLING BEATS, PRODUCING HIP-HOP, SINGLES, WRITING COUNTRY SONGS, TOURING THE WORLD AS A PERFORMING ARTIST, ALL OF THE ABOVE — TO KNOW ABOUT THE INDUSTRY NOW, AND WHAT SHOULD THEY BE THINKING ABOUT IN THE SHORT-TERM FUTURE?
BW: What I see a lot of artists not doing is just understanding in the most powerful and distilled way who they are. You can't market anything until you understand powerfully what you're marketing and this is the number one conversation I have, particularly with emerging artists, rising artists in general, regardless of where they are in their journey.
They want to jump too quickly into the tactical: What should my TikTok plan be? Should I spend money on Instagram ads? Pump the brakes. What are you selling? Who are you? What is your identity? Not in a contrived, cheesy way, but what is the most powerful form of your authentic artistic expression? How does that look? What does it feel like? How does it translate into songs?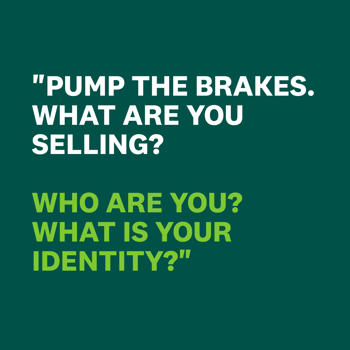 When I work with independent artists, it's helping them pinpoint these answers because, at the end of the day, Tik Tok, Instagram, Spotify — these things are tools. Articulate your identity or what you're about in two or three really powerful words. [Then] take those two or three really powerful words, and that ends up making your choices around your marketing campaign, your distribution plan, your writing, your album plans, all of that stuff a lot easier. It's a lot more authentic because it's rooted in this DNA as opposed to lurching at these different tactical marketing things. [Ed: And there is no shortage of sources online who will try to sell you on these marketing tactics by telling them you can't succeed without them!]
Make your songs better. Make your live show better. And people don't want to hear that because they feel like if they just do the right combination of things with their digital marketing, they're going to break. And number one, that's not true. And number two, even if it is true, you're gonna be a flash in the pan if when that door opens, you don't have five great songs to walk through with, if you don't have a live show that you can take on the road and build real fans with.
There is one tactical marketing thing I like a lot, and that I would say a lot of artists don't pay enough attention to as they're emerging, and that's their fan data. There are a bunch of different ways that you can be collecting your fan data. Cell phones, zip code, start an email newsletter. Sharing music through that newsletter is super easy.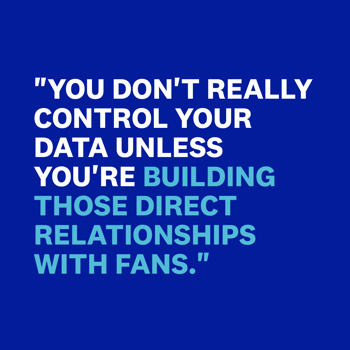 Those are the people that you know are already on board. And they can always unsubscribe anytime. So this is an audience that has selected to really be engaged with [you]. [And] if you're just relying on social media, what happens next week when, say, Elon decides to start charging people for Twitter, or what happens when Facebook changes its algorithm for the ninth time this month?
You don't really control your data unless you're building those direct relationships with fans.And there's no excuse not to, it's so easy if you're an artist to give fans a little something. Entice them to sign up and build real relationships that way too, through exclusive and early content.
THAT'S GREAT ADVICE AND A GREAT POINT TO FINISH UP WITH. THESE PEOPLE ARE ALREADY ON BOARD AND THEY'RE THE ONES WHO WILL BRING FRIENDS TO YOUR SHOWS AND SHARE YOUR MUSIC. THANK YOU SO MUCH FOR SHARING YOUR EXPERIENCE AND WISDOM WITH THE SONGTRUST AUDIENCE!