Take it from us: music publishing is a vast and potentially confusing topic, even for those of us who work in the industry every day. There are reams of laws — many dating back decades or further — and seemingly arbitrary protocols depending on platform, territory and other factors.
We're not going to pretend that we can give you an overview of music publishing in one article, but we're going to try and clear up a few of the most persistent misconceptions about the topic in one fell swoop.
Publishing royalties only matter if you sell thousands of units
Understanding that your song is split into two halves (master recording and composition) and earns different types of royalties for each half is essential to determining exactly what revenue you're owed. More specifically, publishing royalties are attributed to the composition side of your song and are earned in various ways. Part of those publishing royalties come from mechanical royalties, which are generated from sales of physical copies (aka "units") like vinyl or CDs or digital downloads from streaming, but that's not the only way you earn publishing royalties. Other ways you earn royalties from your composition include streaming services like Spotify, video platforms like YouTube, song lyric sites, live performances, apps and more.
Mechanical royalties are only generated from physical sales
The term "mechanical" dates back to the days when music playback only occurred through mechanical means, like cranking up the Victrola at a (low-volume) 1910-style house party. In the pre-streaming era, every sale of a physical product (like LPs, CDs, or cassettes) earned a mechanical royalty. Today, streaming has become the primary form of music consumption in many markets. Those streams also earn mechanical royalties, making physical sales account for only a small percentage of your mechanical royalty revenue stream.
To own the copyright of a song, you have to mail it to yourself
While there are circumstances in which you should consider filing a formal copyright application for a song you write, from the moment your song is considered finished, or "fixed in a tangible form which can be reproduced," you own the copyright. This might take the form of lyrics and chords written down on paper or a simple demo recording. Once you write it and have some physical representation of it, you own the copyright on that song and therefore own the publishing rights to it as well.
Collection societies will collect all of your publishing royalties
If you are only signed up with a collection society, you're missing out on a big piece of your publishing income. Affiliating yourself with a CMO (collective management organization) or PRO (performance rights organization) such as ASCAP or BMI, if you're in North America, is an essential step in music publishing, but it's more like the beginning than the end of the process. For many songwriters, the royalties collected by their collection society represent perhaps a third of their overall publishing royalties. None of the major US PROs collect any mechanical royalties, whether from physical sales or streaming services, which is a significant - and growing - piece of the publishing revenue puzzle. While US PROs may be collecting global performance revenue via reciprocal deals, they may not be covering all the markets where your music is being performed or consumed - and they are almost certainly not collecting your international mechanical royalties. If your home collection society is outside the US, they may be collecting your mechanicals already, but that doesn't mean they are registering your song with other global performance and mechanical societies to ensure that you're collecting in every territory.
Songwriters don't earn royalties from broadcast radio
While songwriters are typically paid performance royalties for broadcast (AM/FM) radio play under a "blanket license" that pays less than, say, a direct sale, the royalties earned through radio can be significant. The US is an outlier, however, when it comes to paying royalties on radio broadcasts to the sound recording (master) copyright owner, which is usually the record label or the self-released artist. Joining a small minority of countries in the global music market that includes China, North Korea and Iran, the US does not mandate that master recording owners be paid this second type of performance royalty for broadcast radio. However, satellite and non-interactive streaming radio services like Pandora do pay out to both master owners and publishers.
A Co-Publishing Deal Is a Quick Way to Break Into Music Publishing
Not quite. In these deals, a songwriter assigns a portion of his or her publishing rights to another person or company in exchange for money; usually, an advance on any royalties the song(s) will earn in the future. While there's nothing wrong with this arrangement per se, it demands a keen and clear-eyed focus on the future. Is your co-publisher well-connected and able to score you syncs, performances by popular artists and other placements? Even in the best of circumstances, a co-publishing deal is much like a high-interest loan advanced against future earnings. That's one reason we advise you seek experienced legal counsel before entering into any publishing deal that involves you giving away any of your rights as a songwriter or publisher. This leads us neatly into our final, and perhaps most important point….
Songwriters Give Up Ownership of Their Copyright When Signing a Publishing Deal
It depends on the deal! If you're signing into a co-publishing deal, generally you are signing away ownership to current and future songs throughout the term of the agreement. If you want to keep your ownership or aren't ready for a traditional publishing deal, a publishing administration deal might be a better fit. When you sign up with a publishing administrator like Songtrust, you do not lose any ownership of your copyrights and are free to exploit your songs however you'd like, in any form you'd like. Plus, by having your songs registered properly worldwide, you set yourself up to collect all future publishing royalties.
These are just a few of the misconceptions floating around about music publishing, and as creators become more independent, the landscape of music publishing will certainly change and more misconceptions will come to light. If you've decided to make songwriting your career, make sure to learn everything you can about the music industry and, most importantly, music publishing, to ensure that you're making better-informed decisions about your work. You're not alone -- check out our knowledge center to get started.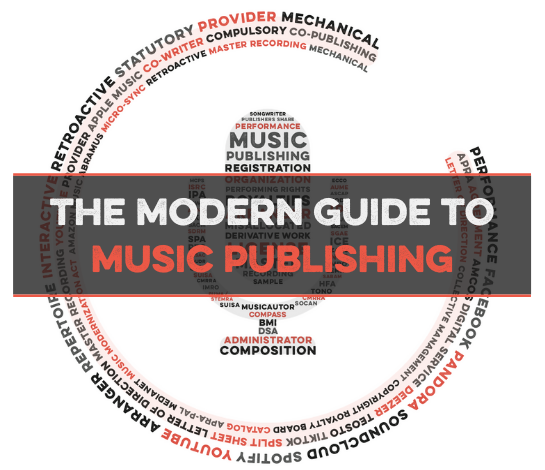 Take control of your publishing. Maximize Songtrust for your songs and business.
We created this guide to answer a simple question: How do songwriters support themselves?
The answer is not as simple as we'd like, but our goal is to make it as clear, transparent and understandable as we possibly can.
Songtrust is more than just a rights management platform and publishing administrator - we're a team of experts in the music community who strive to educate, support, and provide thought leadership to creators, representatives, and businesses across the music industry.
Our hope is that you'll finish this guide with an better understanding of the business behind songwriting and have actionable resources to help you be successful.
Related Articles
Music Publishing Resource
Music Publishing News, Music Publishing Resource