Pride Month in 2020 is unique. Each year, June is spent celebrating the lesbian, gay, bisexual, transgender and queer community, which usually manifests in the form of parades, festivals, concerts, and marches. This year, with the reality of the COVID-19 pandemic and, more recently, the global demonstrations protesting systemic racism and police brutality against the Black community, Pride Month has a different tone. It has become an opportunity for the LGBTQ+ community to stand in solidarity with its BIPOC members, while elevating the conversation of intersectionality as it pertains to queer experiences.
We at Songtrust want to offer our staunch solidarity with the Black community, while acknowledging and honoring their experience in our conversation about Pride Month.
A Brief History of LGBTQ+ Folx in Music
Below, we have selected three genres of music where queer artists have found space to express their identity. This is in no way a comprehensive list of queer musicians, nor does it highlight every queer artist in each respective genre.
The Blues (late 19th and early 20th centuries)
The blues started in the 1870's in the American Deep South. Its roots stem from the musical and cultural traditions established by enslaved people. Despite the ratification of the 13th Amendment, which abolished slavery as it manifested in America from the 16th to mid-19th century, African Americans continued to face economic and social oppression throughout the country. The emotional strife experienced inspired some of the themes of early blues music.
Many people may know about the blues being inherently linked to the Black experience, but it is also a genre that held space for many queer people, specifically queer women. The songs "Empress of the Blues'' by Bessie Smith, "Prove It On Me Blues," by Ma Rainey, and "B.D. Woman's Blues," (B.D. being a slang term for gay women) by Lucille Bogan explicitly reference same-sex desire. Alongside these expression's of overt queerness, many artists like Sister Rosetta Tharpe, Mamie Smith, and Sippie Wallace challenged the traditional ideas of femininity held in early 20th century America.
As the 20th century progressed, it continued to be in the jazz and blues communities that people found space to express queerness. This can be seen in artists, composers, and producers like Billy Strayhorn, Francis Faye, Janis Joplin, and Jackie Shane.
Pop & Glam Rock (1970's and 1980's)
The 1970's and the 1980's is the era most likely thought of when discussing the history of LGBTQ+ folx in music. This is a result of pop and rock music being more mainstream genres that reached a wider audience. It is also the effect of expanding expressions of gender and sexuality inspired by disco culture in the 1970's, as well as the sexual revolution of the 1960's to 1980's. Gender and sexual fluidity were more visible than ever before, which allowed artists like Freddie Mercury, Grace Jones, and David Bowie to exist in the ways they did. For people like David Bowie and Prince, it was the ambiguity of their sexuality that made the community surrounding their music a safe space for queer people.
This particular genre of music lent itself to performance and drag, which can be seen in Queen's "I Want To Break Free" video where Freddie Mercury dressed in drag as a housewife. Grace Jones would consistently subvert gender norms by way of her overt femininity combined with a bawdy, butch swagger. This energy is emulated in her 1977 performance of "I Need A Man" performed at 12 West, a gay club in New York City.
Punk (1960's - 1990's)
Punk music came to prominence in the 1960's and 1970's and is a genre of music that inherently prides itself on questioning and rejecting social norms. For this reason, queer people have flocked to punk scenes since punk existed as it provided a place to safely explore and express their sexualities.
The 1970's and 1980's saw artists like Jayne County, who wrote the song "Man Enough To Be A Woman". County was a huge part of the 1970's punk scene in New York City and one of the most prominent transgender performers of the time. Pete Shelley, who identifies as bisexual, of The Buzzcock's wrote "Ever Fallen In Love (With Someone You Shouldn't've)" about one of his friends turned crush.
The 1990's saw the rise of the Riot Grrrl movement, a movement that set out to normalize women's anger and celebrate their sexuality. Queercore bands like Team Dresch reclaimed queer language with songs like "Fageterian and Dyke." Sleater Kinney's "I Wanna Be Your Joey Ramone" recontextualizes a confidence usually donned by men in rock music to "the queen's of rock and roll." Bikini Kill's song, "Rebel Girl," is an unconditional love song to any woman living their truth, screaming "in her kiss, I taste the revolution".
Artist Spotlights
Transgender Dysphoria Blues by Against Me!
Laura Jane Grace's songwriting often highlights her experiences as a transgender woman. She uses punk rock to express her anger and dysphoria.
Pynk by Janelle Monáe
Janelle Monáe identifies as pansexual. Her music regularly speaks to her experience as a woman, as a queer person, and as an androgynous person.
OOOUUU by Young M.A.
Young M.A. is a rapper who identifies as lesbian. She has made a huge impact in an incredibly male dominated scene. Her music often reclaims derogatory language so often used against women by her male counterparts.
Queen by Perfume Genius
Perfume Genius is an artist that came out when he was very young and experienced extreme homophobia when he was a teenager. Coming from such a hostile adolescence in that regard makes his confident and graceful writing and performing all the more incredible.
History Eraser by Courney Barnett
Courtney Barnett is a huge advocate for the Melbourne, Australia music scene and has used her influence to support local bands and labels. She frequently writes about both romantic and platonic love.
Living in the City by Hurray For The Riff Riff
Alynda Segarra, the front woman of Hurray For The Riff Riff, is a Puerto Rican artist from the Bronx that now lives in New Orleans.
Ripe by Screaming Females
Marissa Paternoster is the front woman for the band Screaming Females. The New Brunswick, NJ punk band combines grunge-y guitar with expanding vocals.
Tilted by Christine and the Queens
Heloisse Letissier is a french pop artist whose music speaks frequently about her experience as a queer person and whose performance plays with gender.
Stay High by Brittany Howard
An artist that was definitely influenced by the blues, Brittany Howard, lead singer of the Alabama Shakes, continues to astound in her solo career.
messy by serpentwithfeet
Josiah Wise is a Brooklyn based electronic pop artist who is classically trained in gospel music. His song "Curiosity of Other Men" led to his getting signed to Tri Angle records.
Chanel by Frank Ocean
Frank Ocean came out via a Tumblr post in 2012 and continues to write beautiful, nonchalant love songs about men.
Conclusion
This list of genres, artists, and songs just scrapes the surface when it comes to holistically representing queer people in music. The truth is that queer people are so integrated into the music industry, that it would be near impossible to acknowledge everyone. The internet has helped create a platform for so many queer voices in music. So much of the work done by the artists listed above is to thank for how far we've come. We hope you enjoyed this brief history and list of queer influence throughout the history of music, and encourage you dive into these genres and find something new.
In addition to these amazing artists and songs above, make sure to follow and listen to our 'Love is Love' playlist on Spotify, and learn more about some of our fellow LGBTQ+ Songtrust clients, such as Davis Mallory and Claud.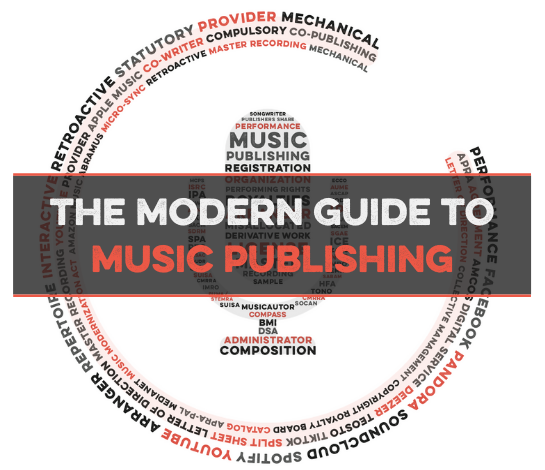 Take control of your publishing. Maximize Songtrust for your songs and business.
We created this guide to answer a simple question: How do songwriters support themselves?
The answer is not as simple as we'd like, but our goal is to make it as clear, transparent and understandable as we possibly can.
Songtrust is more than just a rights management platform and publishing administrator - we're a team of experts in the music community who strive to educate, support, and provide thought leadership to creators, representatives, and businesses across the music industry.
Our hope is that you'll finish this guide with an better understanding of the business behind songwriting and have actionable resources to help you be successful.
Related Articles
Songtrust News, Songtrust Team, Press Release
Songtrust News, Songtrust Team, Press Release