LAUREN SYNGER has directed and/or voiced acclaimed/award-winning audio projects. She is the voices of Alice Angel and Allison, and Voice Director for the Meatly's/Joey Drew Studio's Bendy and the Dark Revival. She recently voiced Sarah, and was Creative Consultant, Voice Director, and Casting Director for Toniko Pantoja's original Brushtale Works animated short, Dusk's Flight. She voiced the teen, punk, and upcoming characters in Killer Klowns from Outer Space: The Game, developed by Teravision Games and published by Good Shepherd Entertainment. Lauren is the promotional and festival voice for Elektrum Festival by Intents Festival and WISH Outdoor. She is the voice of Genlock's Yaz (Yasamin Lex) in Hi-Rez Studios/Evil Mojo's Paladins, Siren Song Cliodhna in Smite by Hi-Rez Studios, the female PC Aerev in Spellforce 3 by THQ Nordic/Grimlore Games, and a multitude of characters in Cryptic/Perfectworld's Star Trek Online, Dungeons & Dragons Neverwinter, S2 Games' Heroes of Newerth, and many more!
In 2022, Lauren released the original song, "Come What May" as her character Allison in Bendy and the Dark Revival. In 2018, she released the original song "Lonely Angel/ I'll Be Your Angel" as her character Alice Angel in Bendy and the Ink Machine. She has lent her creativity, vocals, songwriting skills, and voice-over talent to video games and their soundtracks such as Heroes of Newerth by S2 Games/Frostburn Studios and the award-winning Skyrim conversion Enderal. Lauren continues to develop her own original music, which will be made available publicly, and for licensing use in movies, TV, and video game soundtracks.

---
WHAT OR WHO INSPIRED YOU TO GET INTO MUSIC?
As a child of the 80s, I grew up during a time when you could sing along with almost every song on the radio, and cartoons aired on Saturday mornings. My passion has always been music and animation, which evolved to also include video games.
Musically, I'm influenced by lots of different sounds and styles. Like many American kids of the 80s, I grew up listening to Casey Kasem's Top 40. I was influenced by my parent's music of the 60's and 70's, my sister's love of alternative and brit-pop, and my grandma's love of the music of the 1920s-1940s. At 15, I discovered Tori Amos, my musical muse, and through her music found my own voice for self-expression. I also discovered many great artists through soundtracks for movies, TV, and games that influenced my sound.
Plus, I was a huge Disney fan. In second grade I had my first acting and singing experience when I was asked to play Cinderella in our class play, Cinderella. I was 11 at the time Disney's The Little Mermaid came out, and that was my "ah-ha" moment of what I wanted to do with my life by combining my two passions—voice-over and singing—into a career.
I started taking private voice lessons at 13 and throughout my teenage years, was involved in chamber choir and school plays, studied musical theater, classical, and opera, and was encouraged to pursue a career in the arts by my voice teacher when I was in high school, who was my first music mentor. I went to Ithaca College and graduated with a Bachelor of Music in Voice and outside field in Modern Languages, under the guidance of my second music mentor, my college voice professor. Not only did I develop an understanding of the languages I was singing in, but I also greatly expanded upon the foundation of vocal techniques I knew, along with my repertoire. I gained so much more confidence. I discovered my own voice and learned how to bring myself authentically into my performances.
HOW WOULD YOU DESCRIBE YOUR STYLE OF MUSIC AND PERFORMANCE? HOW WOULD YOU DESCRIBE YOUR PHILOSOPHY AND STYLE AS AN ARTIST?
I have always been musically adventurous, and my heart has always been rooted in 80s music. I love practically everything from almost any time period—from all types of pop and rock to jazz, musical theater, opera, music from other parts of the world and in other languages. I am drawn to many different musical genres. I find it's individual songs or artists that resonate with me, rather than the style itself.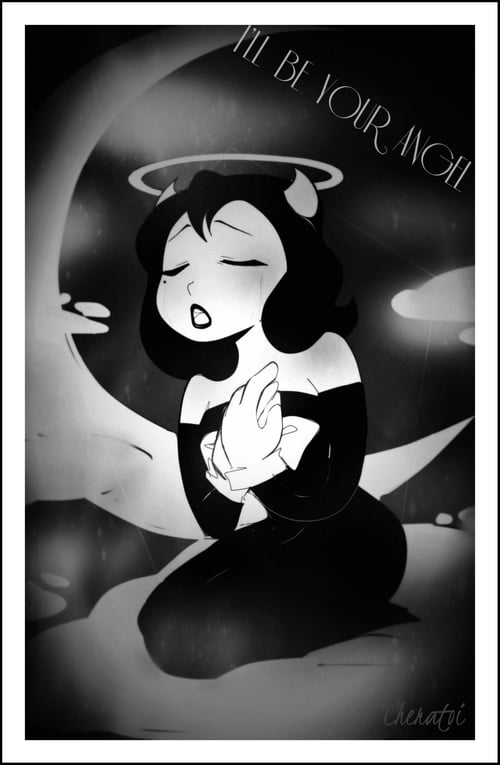 When I write for a specific character or story, like I did for Allison in Bendy and The Dark Revival, and Alice Angel in Bendy and the Ink Machine, I want the song to stand on its own, but take on a whole other meaning and depth for those who understand the character and story. I love the idea of sounds or instruments representing different characters and their emotions, so I find myself bringing them together in unexpected ways as I do musical styles and instruments in my original music.
I tend to write metaphorically, and yet still be relatable, like my musical inspiration/ musical muse, Tori Amos. Her music helped get me through the most difficult moments in my life and continues to be a constant source of strength and inspiration for my own self-expression. I honor and celebrate her sound through mine, along with my other musical influences. I want to do for others what my inspirations do for me and inspire the next generation to pass that inspiration along to the following generation, and so on.
My influences include: Tori Amos, Yoko Kanno, Danny Elfman, Cole Porter, The Sherman Brothers, Hans Zimmer, Mai Yamane, Ilaria Graziano, Origa, Maaya Sakamoto, Florence + The Machine, Avenged Sevenfold, Shinedown, Stereophonics, Muse, Bastille, Coldplay, NiN, Evanescence, Lindsey Stirling, Halestorm, The Cure, Within Temptation, Plumb, Billy Joel, Foo Fighters, Peter Gabriel, Rob Thomas, The Doves, Adele, Depeche Mode, KT Tunstall, Poe, Yoav, Our Lady Peace, The Beatles, Rolling Stones, Led Zeppelin, Heart, Pat Benatar, Sting (The Police), Madonna, Michael Jackson, Prince, Annie Lennox, Queen, David Bowie, 80s music in general.
WHAT DRIVES YOU TO CREATE, AND HOW DO YOU DEFINE SUCCESS FOR YOURSELF IN MUSIC?
To put it in one word—inspiration. Sometimes I'll get random creative thoughts that pop into my head. A couple of lines of lyrics, part of a melody…or I'll be watching a movie or listening to a song, and BAM—there's this cool idea! At which point I frantically reach for my phone to document my ideas before they disappear!
I think of songs in many ways as puzzles. Sometimes the puzzle image isn't always clear right away. It comes in pieces. But when I find pieces that fit, I can start to see this amazing full picture in my mind take shape—even if all I have is a completed section. I can hear the way that section comes to life in my head, which often leads to hearing the whole song.
As artists, sometimes we can be too critical of ourselves and don't take as much time as we should to celebrate those successes. It's important to allow yourself to define your dreams and your goals. And when you accomplish them, allow yourself to live in that moment and be proud of those accomplishments as you strive for what's next.
My dream in music has always been to create soundtrack music for use in movies, TV, and video games. I want to create original music that is both universally appealing, and that can elevate the visuals in other forms of entertainment. I welcome any opportunity to utilize my voice in singing as I do in voice-over.
Going by my own definition of success, I can proudly say yes, I have seen success in music. I have sung in multiple projects and have created music for video games. I feel like this is just the beginning of my journey with getting my original music out into the world and into other forms of entertainment. I cannot wait to see what's next!
WHAT HAS YOUR EXPERIENCE BEEN LIKE IN CREATING MUSIC FOR VIDEO GAMES?
Though typically there isn't too much singing in games, I was asked to sing for multiple character theme songs for Heroes of Newerth, in which I voiced many characters over the years. I helped write the vocal melody for the song A Death Does Not Become an End. I also voiced many characters and sang several songs as a bard in the Skyrim conversion Enderal.
In 2017, I found myself at a crossroads. I had a career-defining role, that I voiced for years, taken from me and handed to a celebrity when the game went union, and at the time I was not. I've been in the voice-over industry since 1999, and I have experienced my share of triumphs and defeats. To me, there is nothing more soul-crushing than having something earned taken. I was burning out.
During this time, my nephew introduced me to Bendy and The Ink Machine. I fell in love with the aesthetic, the music, everything about it. I wrote an email to its creator, theMeatly, that I almost didn't send. I was feeling defeated, but with a little encouragement, I attached my demo and expressed my admiration for what he created and desire to be a part of it, expecting to hear nothing. Three weeks later he wrote me, expressing how much he loved my demo and had a character in mind for me.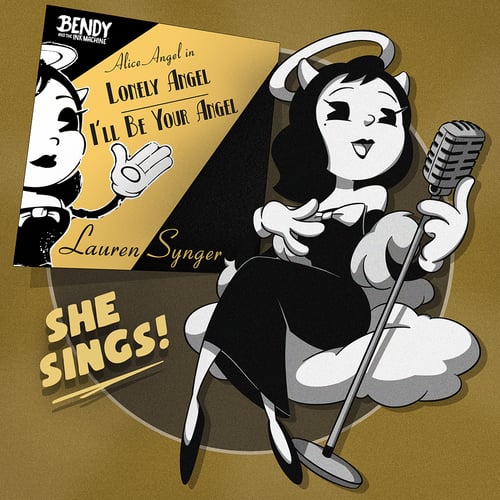 Not only was I offered the role of Alice Angel in Bendy and the Ink Machine, but I was also given a creative voice in the project. I asked if I could write a song for Alice Angel, based on her poster which read She Sings, She Dances, and he was all too thrilled to let me. I have never written in a 1930s jazz vaudeville style before, but I was so inspired by theMeatly—his story and character—and the artwork of Alice Angel I was seeing from the Bendy fans, the song poured out of me. I wrote it in two days.
From there I became involved in script development and editing. I helped find voices for other roles. Whatever he needed help with I was willing to try. And ultimately, he asked for my help with a new Bendy game, Bendy and the Dark Revival, which released on November 15, 2022. At first, my title was voice talent manager, but my responsibilities kept growing. I showed what I could offer the franchise and earned the role of voice director—and it's been the most rewarding aspect of my career. Being a singer, songwriter, and music producer for the music, and both voice director and voice actor for the voice-over, has helped me find my calling not only to inspire, but bring out the best in others. In addition to returning to voice Alice Angel and Allison, I wrote and recorded a new song for Bendy and the Dark Revival, titled Come What May, which was also released in November.
(Cover art by AmahyZING Art & Design; Artwork by TimeTheHobo)
THROUGHOUT YOUR CAREER, WHO WERE THE MOST BENEFICIAL PEOPLE IN GETTING YOU TO WHERE YOU WANTED? WAS IT MANAGEMENT, ASSISTANTS, A&RS? HOW DID THEY HELP?
Those who took a chance and believed in me, along with my mentors. In music, it was Joan Kaplon and Dr. David Parks. It was the people in the voice-over world always challenging me to be better, like my voice-over guru and dear friend, Lani Minella. And it was the creatives in the entertainment industry, like theMeatly, who have given me opportunities to shine. It's also come from referrals made by my friends and fellow voice actors. Some of the people I work with, cast and direct for projects they are working on, just like I do. We will bring each other in, because we know the work will be stellar for the people we work with.
SOMETIMES BEING IN THIS BUSINESS CAN BE REALLY OVERWHELMING. DO YOU HAVE ANY TIPS FOR MAINTAINING PERSPECTIVE AND NOT SWEATING THE SMALL STUFF?
As I mentioned before, as creatives it's very easy for us to get down on ourselves. Sometimes it's good to step back and take stock of the things that you have accomplished and allow yourself to spend a little time there. Keep your eyes on the prize and chase those dreams. Just make sure you are realistic with yourself about your goals. Be willing to put in the work and time to make your dreams come true. Making music is the easy part. How will you make a living doing what you love? What are you going to do with it? How are you going to get it out there? How are you going to get it heard by the people you want to hear it? They're not easy questions, and there are no right or wrong answers. Sometimes it's trial and error until you find something that works for you. Sometimes you just get lucky. Dreams don't come true from only wishing on a star. You must put in the work to see them through.
WHAT ABOUT BEING A VOICE ACTRESS APPEALS TO YOU THE MOST?
Animation and video games! These are my favorite and most inspiring mediums for storytelling. I'm an audio storyteller who has a complete love and appreciation for visual storytelling. I have always been fascinated by animation. I'm wildly imaginative, and I love to bring my ideas and passion to the story and characters I help bring to life.
It is with tremendous pride that I can share I worked with legendary artist/animator Toniko Pantoja in his breathtaking animated short, Dusk's Flight as the creative consultant, casting director, voice director, and the voice of Sarah. Guiding Toniko through the audio process has been a milestone achievement and dream come true. Through this experience, I have earned Toniko's trust, and we have become friends. To me, that is the best part. I can't wait for future collaborations!
(Artwork by: Toniko Pantoja)
DOES CREATING MUSIC AND VOCALS FOR VIDEO GAMES, NARRATIONS, ETC ALLOW YOU TO BE MORE CREATIVE WITH YOUR WORK, OR DOES THAT TYPE OF WORK COME WITH ITS OWN SET OF RULES THAT HELPS YOU BETTER DEFINE YOUR STYLE?
I wouldn't say creating music lets me be more creative in voice-over necessarily. When a client knows exactly what they want then my job is to capture the creative vision as the director wants it. Sometimes directors will either want to use the voice(s) I used in my audition, like Killer Klowns, or bat around ideas and experiment with voices, like Elektrum, and Dusk's Flight. Same with music. My job is to do the best I can, delivering what's asked of me.
It's when I get to have a creative voice and be part of that creation process that allows me to be more inventive in my work, as in the case with Bendy and the Dark Revival and Bendy and The Ink Machine. I was a part of developing both Alice Angel and Allison, and so I had the unique advantage of understanding them and the story on a completely different level. This inside knowledge helped me write the songs for them, for which I was given full creative freedom.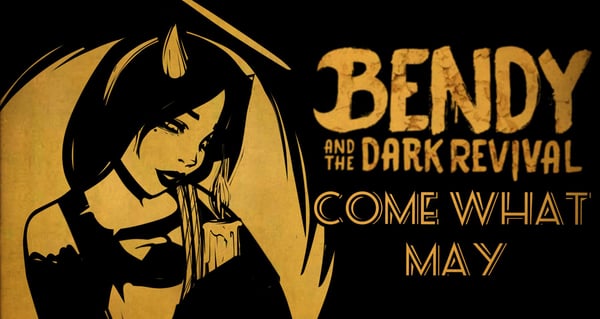 The styles of Come What May and Lonely Angel/I'll Be Your Angel aren't really the styles I lean toward in my own original music, so I wouldn't say it has helped define my personal style, per se. They helped me explore other sounds and styles, which I might incorporate into my own, and is now something I have a much better understanding of and feel more comfortable writing in! I have a tremendous love and appreciation for the music of the 1920s-40s, mainly because of my grandma and the animation I grew up with, especially Disney. I loved exploring the songs and artists that defined these decades, and the challenge of diving into and writing 1930s and 1940s music for the first time.
It's also helped me streamline my creative process and clearly articulate my ideas to the musicians and audio producers I collaborate with. I'm not someone who writes charts, but I can write basic cords and share them with my co-musicians, who can take my ideas and help me bring them to life by fleshing out my basic arrangements.
We recorded Lonely Angel as songs would have been recorded during the 1930s, with live studio musicians, in-person. I sang and directed the musicians, and they followed me while we recorded. To this day, it was one of the most daunting and incredible experiences of my life. The song came together like magic with the help of my pianist, Andrew, and audio producer, my audio wizard, Patrick MacDougall, to guide me through.
Come What May was a bit different. I brought back the incredible pianist, Andrew, who I worked with on Lonely Angel. Just like before, I shared my musical ideas and the song, and he took my basic arrangement, and fleshed out a breathtaking piano arrangement. We "performed" together, much in the same way we recorded Lonely Angel, except this time it was just him and I. This allowed us to create a much more intimate sound to build the rest of the song upon. I brought back the fabulous clarinetist Joe Carello from Lonely Angel. The rest of the team was all remote.
The strings sounds were created using virtual instrument software. I can't believe how good they sound! Just like the real thing. My virtual strings artist, Tim Simmons, really knocked it out of the park not only with the sounds, but the gorgeous strings quartet arrangement. Tim is the voice of Wilson in Bendy and the Dark Revival, a fabulous voice artist, and a longtime friend in the voice-over world, he's also an incredible musician.
DO YOU HAVE ANY ADVICE FOR YOUNG ARTISTS AND MUSICIANS JUST STARTING THEIR CAREERS, BASED ON WHAT YOU'VE EXPERIENCED?
Don't be afraid to ask for guidance: Songtrust is a great place to start! It's run by caring people dedicated to helping us musicians find success. Everyone has to start somewhere, and they have great resources for making sure your I's are dotted and your T's are crossed.
Reach out to other musicians who are doing what you want to do with your career: You will find that when you ask for help people can be very responsive, and some might surprise you by how willing they are to help you along your journey.
Separate yourself as an artist from the songs you create: I know this is a tough one, especially for those who write very personally. But you have to think of your songs as products, and not as something you breathed life into when it comes to the business aspect of marketing and getting them out there.
Explore music: You have the world at your fingertips. Go online and find artists that resonate with you. Find sounds and styles that you love and work them into your own.
Be true to yourself: "We are the music makers and the dreamers of dreams" as Gene Wilder quoted so beautifully in Willy Wonka and the Chocolate Factory. This is a quirky industry, filled with creative, quirky people. There will be those who appreciate you for being you and those who don't. That goes for you as a person and your art. I have found being genuine, authentic, and staying true to yourself pays off in the long run.
Value yourself, your work, and protect yourself and your ideas: this is so important. It's okay early on to take jobs that don't compensate you as much as you want if it's to help you build your portfolio. But eventually, you need to be compensated fairly for what you bring to the table. Educate yourself so you have a good understanding of what compensation should look like. Know your value and your worth. And if you're creating original work, protect yourself. Copyright your music and seek legal advice, if needed, to help you with agreements when you're working with other artists to protect and fairly compensate everyone involved. Remember—the best experiences are win-win.
Have courage, be kind: I constantly reiterate this to those who follow me on Twitter. Adopt the Cinderella philosophy—"have courage, be kind". The best experiences of my career have all come from taking risks, so don't hesitate to put yourself out there. There's nothing wrong with fear—as long as you don't allow it to cripple you. As for kindness? It goes a long way. People will remember how you made them feel, so be the person you would want to work with.
Find passionate, dedicated collaborators: If you're collaborating, have a team of people who have your back and are as passionate and dedicated to your project as you. Let them bring their ideas and creativity to the table. They will personally invest in the music that much more when they are respected to be artists with it. You will find that in a collaboration that welcomes creative input, you will end up with something even better than what you had in mind, and that's a wonderful thing!
Have a clear vision: At the end of the day, it's about whatever serves the music and your artistic vision best. Always keep in mind it is your song and you must be happy with the final results. Don't allow anyone else to let you compromise your vision for what you want with your music but be open to letting your vision evolve.
Above all, don't ever give up: If this is something you really want, don't let anybody stop you. It's okay to step back and catch your breath when you get knocked down, just don't stop! The "traditional" way to do something isn't always the way that works. You don't have to go in through the front door, all you need is an opening. So don't be afraid to create your own and do it your way. If it works for you who can argue with the results?
WHAT'S NEXT FOR YOU? ANY UPCOMING PROJECTS OR PLANS?
Yes! The cast of Bendy and The Dark Revival, aka my Bendy VO Family, and I have a very special event planned as a gift to theMeatly and his team, and of course, the fans. December 19th at noon Pacific only on YouTube! You don't have to be a Bendy fan to appreciate this. It's going to be a great time! Check out @LaurenSynger on Twitter for info!
As for projects? I live in a world of NDAs, which means I am legally bound to keep my mouth shut! It is extremely hard not being able to talk about all these exciting projects I have been working on. I am so proud of them and the amazing people I have the honor of working with. I can't talk about them yet, but when I can I'll be sharing them on social media, so stay tuned!
Follow Lauren Synger on:
Keep up with Lauren Synger and listen to their music on:
Check out Lauren Synger's projects: