Since 1999, LAUREN SYNGER has lent her talents to projects in both voice-over and music. Lauren is a Singer, Songwriter, and Music Producer. She is an Award-winning Voice Actress, and Voice Director, whose acting skills and years of experience in the world of voice-over are interchangeable with her musical capabilities. With a passion for good storytelling, Lauren believes in breathing life into her songs and characters.
Known for her creativity, intuition, and versatility in voice, Lauren can sing anything from classical and opera, to musical theater, pop, rock, blues, jazz, and everything in between. Her emotionally charged performances, wide range of ages and accents, and a plethora of characters, enable her to find the right spoken or sung "voice." She collaborates with other creatives, composers, and musicians to create unique, original content. With an understanding of and passion for many different musical genres, Lauren writes original music, blending different styles and sounds together in unexpected ways to create something familiar, yet new.
In 2018, Lauren wrote, produced, directed, and performed the character song "Lonely Angel/ I'll Be Your Angel" as her character Alice Angel in Bendy and the Ink Machine by theMeatly Games/Joey Drew Studios. She has lent her vocals, songwriting skills, and voice-over talent to video games and their soundtracks such as Heroes of Newerth by S2 Games/Frostburn Studios, and the award-winning Skyrim conversion Enderal.

In voiceover, Lauren Synger has directed and/or voiced acclaimed/award-winning audio projects, including her most recent work as the spoken and sung voices for Alice Angel/Allison/Milla in theMeatly's/Joey Drew Studio's Bendy and the Dark Revival (in Production), Bendy and the Ink Machine, and Boris and the Dark Survival. She is the voice of Genlock's Yaz in HI-Rez Studio/Evil Mojo's Paladins. She also voiced The female PC Aerev in Spellforce 3 by THQ Nordic/Grimlore Games. She has voiced a multitude of video game characters in Perfectworld's Star Trek Online, Dungeons & Dragons Neverwinter, S2 Games Heroes of Newerth, and many more.

For the first decade of her VO career, Lauren provided voice-over in over 50 titles for audio production company Full Cast Audio. She voiced the following characters in the Audie Award-Winning/Nominated and critically acclaimed titles: Mirian C Cooper's King Kong: Ann Darrow, Tamora Pierce's Will of the Empress: Empress Berenene, George MacDonald's The Light Princess: The Light Princess, Kenneth Oppel's Airborn, Skybreaker, Starclimber: Miss Simpkins, Patricia C. Wrede's Enchanted Forest Chronicles 2-4: Princess Cimorene. She also provides narration and characters for the award-winning audio fiction magazine, The Drabblecast.

Lauren is also known for her commercial/narration work, including award-winning commercial work for Wyndham Vacation Rentals, which received a Communicator Award, and SUNY Upstate Medical University. She has also voiced for Harley Davidson Sales Company, and Violight. Lauren also lends her vocal talent to Educational Audiobooks, Narration, & Training for companies like Learnosity, Curriculum Associates, Pearson Education, and the National Suicide Prevention Lifeline.
In conjunction with her current voice-over and music projects, Lauren is working on her own original music, which she plans to license for use in movies, TV, and Video Game soundtracks.
---
WHAT OR WHO INSPIRED YOU TO GET INTO MUSIC?
I was a child of the 80s. I grew up during a time when you could sing along with almost every song on the radio and cartoons aired on Saturday mornings. My passion has always been music and animation, which evolved to also include video games.
Musically, I am influenced by lots of different sounds and styles. Like many kids of the 80s, I grew up listening to Casey Casem's Top 40. I was influenced by my parent's music of the 60s and 70s, my sister's love of alternative and brit-pop, and my grandma's love of the music of the 1920s-1940s that she grew up with. At 15 I discovered Tori Amos, my musical muse, and through her music found my own voice for self-expression. I also discovered many great artists through soundtracks for movies, TV, and games that influenced my sound.
I was also a huge Disney fan. In second grade I had my first acting and singing experience when I was asked to play Cinderella in our class play, Cinderella. I was 11 at the time Disney's The Little Mermaid came out, and that was my "ah-ha" moment of what I wanted to do with my life- combine my two passions into a career—Voice Over and Singing.
I loved to imitate the voices I heard in the animation I watched. I could sound exactly like the singers in the songs I listened to, down to every nuance in their voices, but didn't really have a voice or style of my own.
I started taking private voice lessons at 13 and throughout my teenage years, was involved in chamber choir and school plays, studied musical theater, classical, and opera, and was encouraged to pursue a career in the arts by my family and private voice teacher, who was my first music mentor. I went to Ithaca College and graduated with a Bachelors of Music in Voice and Outside Field in Modern Languages, under the guidance of my second music mentor, my voice professor. Not only did I develop an understanding of the languages I was singing in, I greatly expanded upon the foundation of vocal techniques I knew, along with my repertoire. I gained so much more confidence. I discovered my own voice and learned how to bring myself authentically into my performances.
During my senior year of college I put on a recital showcasing my versatility, the languages I studied, and the music I loved with a 12-piece orchestra I co-arranged.
HOW WOULD YOU DESCRIBE YOUR STYLE OF MUSIC AND PERFORMANCE? HOW WOULD YOU DESCRIBE YOUR PHILOSOPHY AND STYLE AS AN ARTIST?
I have always been musically adventurous, and my heart has always been rooted in 80s music. I love practically everything from almost any time period- from pop and rock (even the heavier stuff) to jazz, musical theater, opera, music from other parts of the world and in other languages, you name it! I am drawn to many different musical genres. I find it's individual songs or artists that resonate with me, rather than the style itself.
I love to experiment with sound, and I adore combining world sounds, nostalgic, classical, and electronic sounds into musical genres, such as pop, rock, blues, jazz, classical, modern, hard, and eclectic rock to create something familiar, yet new.
I approach music the same way I approach voiceover. Each song is its own character with its own voice. It's my job to breathe life into that character. I'm a storyteller, so for me, singing is more than hitting the right notes and reciting words to a rhythm. I believe it is the most beautiful and powerful form of communication, and of art, artistry, and acting. It is the use of sound, voice, and pitch to portray an emotion, capture a moment in time, and enhance other forms of entertainment. I want the music I create to be relatable. It has to resonate sonically and/or lyrically.
All of my songs come from a personal place. They are reflections on life. They could be born out of an emotional need to express or release, an outcry against injustices in the world that affect me, or my influences and artistic inspirations. Or they could be introspective thoughts on me, or a moment, or the people throughout my life. I write songs that hold personal meaning for me, and also take on whatever shape the listener needs them to.
When I write for a specific character or story like I did for Alice Angel, I want the song to stand on its own, but take on a whole other meaning and depth for those who understand the character and story. I love the idea of sounds or instruments representing different characters and their emotions, so I find myself bringing them together in unexpected ways as I do musical styles and instruments in my original music.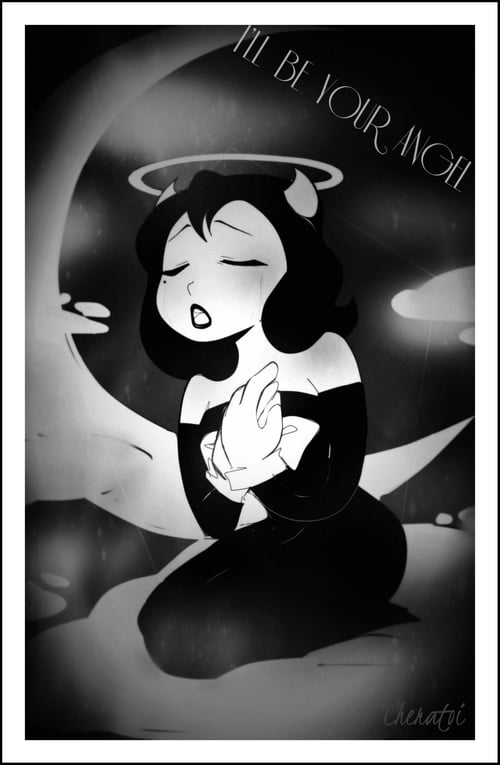 I tend to write metaphorically, and yet still be relatable, like my musical inspiration/ musical muse Tori Amos. Her music helped get me through one of the most difficult moments in my life and continues to be a constant source of strength and inspiration for my own self-expression. I honor and celebrate her sound through mine, along with my other musical influences.
Through my music, I want to express and share with others the emotions I feel through the power of music. I want to give to others what my inspirations give me. I want the music to help the creative listeners out there find their own voice to express their feelings; to draw ideas and inspiration from for their own music. I want to connect with the listener on an emotional level. I want the music to transport them. Give them a much-needed escape from life, an outlet for their pain, help give them strength, maybe even a reminder they aren't alone.
My influences include: Tori Amos, Yoko Kanno, Danny Elfman, Cole Porter, The Sherman Brothers, Hans Zimmer, Mai Yamane, Ilaria Graziano, Origa, Maaya Sakamoto, Florence + The Machine, Avenged Sevenfold, Shinedown, Stereophonics, Muse, Bastille, Coldplay, NiN, Evanescence, Lindsey Stirling, Halestorm, The Cure, Within Temptation, Plumb, Billy Joel, Foo Fighters, Peter Gabriel, Rob Thomas, The Doves, Adele, Depeche Mode, KT Tunstall, Poe, Yoav, Our Lady Peace, The Beatles, Rolling Stones, Led Zeppelin, Heart, Pat Benatar, Sting (The Police), Madonna, Michael Jackson, Prince, Annie Lennox, Queen, David Bowie, 80's music in general.
WHAT DRIVES YOU TO CREATE, AND HOW DO YOU DEFINE SUCCESS FOR YOURSELF IN MUSIC?
To put it in one word, inspiration. Sometimes I'll get random creative thoughts that pop into my head. A couple of lines of lyrics, part of a melody…or I'll be watching a movie or listening to a song, and BAM - there's this cool idea! At which point you'll see me frantically reaching for my phone to open my voice memos app and document my ideas before they disappear!
I think of songs in many ways as puzzles. Sometimes the puzzle image isn't always clear right away. It comes in pieces. But when I find pieces that fit I can start to see this amazing full picture in my mind take shape, even if all I have is a completed section. I can hear the way that section comes to life in my head, which often leads to hearing the whole song.
I think as artists sometimes we can be too critical of ourselves and don't take as much time as we should to celebrate those successes.
My dream in music has always been to create soundtrack music for use in movies, tv, and video games. I want to create original music that is both universally appealing, and that can elevate the visuals in other forms of entertainment. I welcome any opportunity to utilize my voice in singing as I do in VO (voiceover) for animation and video games.
By my own definition of success I can proudly say yes, I have seen success multiple times in lending my singing, and in creating music for other forms of entertainment; video games.
It's important to allow yourself to take moments where you can let that soak in. Define your dreams, and your goals. How you define success. And when you accomplish them allow yourself to live in that moment and be proud of those accomplishments as you strive for what's next.
WHAT HAS YOUR EXPERIENCE BEEN LIKE IN CREATING MUSIC FOR VIDEO GAMES?
While there typically isn't too much singing in games I was asked to sing for multiple character theme songs for Heroes of Newerth, which I voiced many characters in for years. I helped write the vocal melody for "A Death Does Not Become an End". I also voiced many characters and sung a couple of songs as a bard in the Skyrim conversion Enderal.
In 2017, I found myself at a crossroads in VO after having a career-defining role I voiced for years was handed to a celebrity when the game went LA union (an all-too-common occurrence sadly). I've been in the voiceover industry since 1999, and I have experienced my share of triumphs and defeats. . It's one thing to not get the part, and quite another to earn it and have it taken from you years later. To me, there is nothing more soul-crushing.
During this time, my nephew introduced me to Bendy and The Ink Machine. I fell in love with the aesthetic, the music, everything about it. I wrote an email to its creator, theMeatly, that I almost didn't send. I was feeling defeated, but with a little encouragement, I attached my demo and expressed my admiration for what he created and desire to be a part of it, expecting to hear nothing. Three weeks later he wrote me expressing how much he loved my demo and had a character in mind for me.
Not only was I Alice Angel in Bendy and the Ink Machine, but I was also given a creative voice in the project. I was a creative right hand to theMeatly and developed story ideas, the voices and personalities for Alice Angel, and my other character, Allison, with him.
I asked theMeatly if he had a song for Alice Angel, and when he said he didn't I asked if I could try writing one. He was thrilled to let me give it a shot. I wrote, performed, directed, and produced "Lonely Angel/I'll Be Your Angel", for Alice Angel, as she would have appeared in cartoons, in the 1930s vaudeville jazz character piece style of Cole Porter, and recorded it with a live jazz ensemble.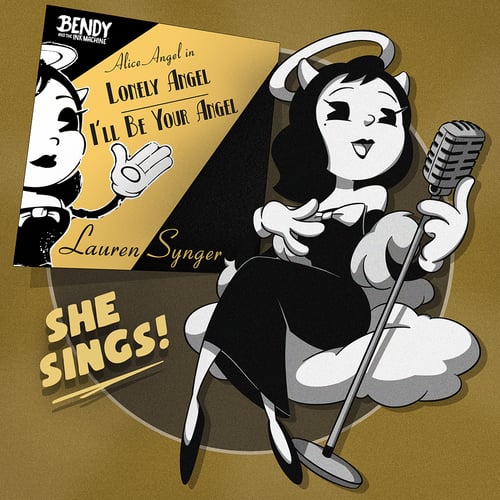 I have never written in that style before, but I was so inspired by theMeatly, his story and character, and the artwork of Alice Angel I was seeing from the Bendy fans, the song poured out of me. I wrote it in 2 days.
Eventually, theMeatly asked me to help him with the Voice Department for his other games. I ended up becoming Voice Director for Showdown Bandit, Boris and the Dark Survival, and most recently, (to my shock and delight) the next installment to his flagship game, Bendy and the Ink Machine, the highly anticipated Bendy and The Dark Revival.
Bendy has been a life-defining moment for me. It's allowed me to challenge myself creatively in ways I never have before and be challenged in ways I never dreamed of. Because of my experience directing the talent in music and working creatively with theMeatly in Bendy and the Ink Machine, I was given the opportunity to direct for theMeatly's other titles in voice-over! It's been the greatest experience of my career! So far. It's also been the catalyst for me to get more involved in the creative development and directing side, and to get even more of my original music out there.
(Cover art by AmahyZING Art & Design; Artwork by TimeTheHobo)
THROUGHOUT YOUR CAREER, WHO WERE THE MOST BENEFICIAL PEOPLE IN GETTING YOU TO WHERE YOU WANTED? WAS IT MANAGEMENT, ASSISTANTS, A&RS? HOW DID THEY HELP?
My mentors, and the people in the voice-over world, like theMeatly, who have given me every opportunity to shine. I'm excited to professionally explore the music world in ways I haven't yet!
SOMETIMES BEING IN THIS BUSINESS CAN BE REALLY OVERWHELMING. DO YOU HAVE ANY TIPS FOR MAINTAINING PERSPECTIVE AND NOT SWEATING THE SMALL STUFF?
As I mentioned before, as creatives it's very easy for us to get down on ourselves. Sometimes it's good to step back and take stock in the things that you have accomplished and allow yourself to spend a little time there. Keep your eyes on the prize and chase those dreams. Just make sure you are realistic with yourself about your goals. Be willing to put in the work and time to make your dreams come true. Making music is the easy part. What are you going to do with it? How are you going to get it out there? How are you going to get it heard by the people you want to hear it? They're not easy questions, and there are no right or wrong answers. Sometimes it's trial and error until you find something that works for you. Sometimes you just get lucky. Dreams don't come true from only wishing on a star. You have to put in the work to see them through.
DO YOU HAVE ANY ADVICE FOR YOUNG ARTISTS AND MUSICIANS JUST STARTING THEIR CAREERS, BASED ON WHAT YOU'VE EXPERIENCED?
Don't be afraid to ask for guidance: Songtrust is a great place to start! It's run by caring people dedicated to helping us musicians find success. Everyone has to start somewhere, and they have great resources for making sure your I's are dotted and your T's are crossed.
Reach out to other musicians who are doing what you want to do with your career: You will find that when you ask for help people can be very responsive, and some might surprise you by how willing they are to help you along on your journey.
Separate yourself as an artist from the songs you create: I know this is a tough one, especially for those who write very personally. But you have to think of your songs as products, and not as something you breathed life into when it comes to the business aspect of marketing and getting them out there.
Explore music: You have the world at your fingertips- use it to your advantage- find artists that resonate with you. find sounds and styles that you love and work them into your own.
Be true to yourself: "We are the music makers and the dreamers of dreams" as Gene Wilder quoted so beautifully in Willy Wonka and the Chocolate Factory. This is a quirky industry, filled with creative quirky people. There will be those who appreciate you for being you and those who don't. That goes for you as a person and your art. I have found being genuine, authentic, and staying true to yourself pays off in the long run.
Value yourself, your work, and protect yourself and your ideas: this is so important. It's OK early on to take jobs that don't compensate you as much as you want if it's to help you build your portfolio. But eventually, you need to be compensated fairly for what you bring to the table. Educate yourself so you have a good understanding of what compensation should look like. Know your value and know your worth. And if you're creating original work, protect yourself. Copyright your music, seek legal advice if needed to help you with agreements when you're working with other artists to protect and fairly compensate everyone involved. Remember- the best experiences are win-win.
Have courage, be kind: I preach this to my followers on Twitter constantly. Adopt the Cinderella philosophy – have courage, be kind. The best experiences of my career have all come from taking risks, so don't hesitate to put yourself out there. There's nothing wrong with fear, as long as you don't allow it to cripple you. As for kindness? It goes a long way. People will remember their experiences working with you, so be the person you would want to work with.
Above all, don't ever give up: If this is something you really want, don't let anybody stop you. it's OK to step back and catch your breath when you get knocked down. Just don't stop. The "traditional" way to do something isn't always the way that works. You don't have to go in through the front door. All you need is an opening. So don't be afraid to create your own and do it your way. If it works for you who can argue with the results?
WHAT ABOUT BEING A VOICE ACTRESS APPEALS TO YOU THE MOST?
Animation and Video Games! My favorite and most inspiring mediums for storytelling! I'm an audio storyteller who has a complete love and appreciation for visual storytelling. I have always been fascinated by animation. I love seeing how a visual artist can create an aesthetic completely unique to their world. I love the idea of breathing life into something that's part of a world that has no rules other than those the creator sets. I'm wildly imaginative, and I love to bring my ideas and passion to the story and characters I help bring to life.
DOES CREATING MUSIC AND VOCALS FOR VIDEO GAMES, NARRATIONS, ETC ALLOW YOU TO BE MORE CREATIVE WITH YOUR WORK, OR DOES THAT TYPE OF WORK COME WITH ITS OWN SET OF RULES THAT HELPS YOU BETTER DEFINE YOUR STYLE?
I wouldn't say creating music lets me be more creative in voice-over necessarily. When a client knows exactly what they want then I'm a hired gun in music the same way I am for voiceover. My job is to do the best I can delivering what's asked of me. It's when I get to have a creative voice and be part of that creation process that allows me to be more creative in my work, as in the case with Bendy and The Ink Machine.
Sure, there were set rules dictated by what theMeatly created. Alice Angel is a fictional character set in the 1930s time period, so I knew I wanted to write her song in that period-appropriate style. I took other factors into consideration:
This is a character in a horror game. Even though the song is flirty and fun, it still had to have darkness to it.
The singing voice had to be appropriate to Alice Angel as a cartoon, which is very different than what you hear when you meet her in-game, and yet still have a wistful melancholy and playful sexiness that embodies Alice Angel.
The song most likely would've been used for an Alice Angel cartoon, and so I envisioned what the cartoon would look like and how she would interact in it. Speaking of which, I would love to see an actual cartoon made! It's a dream goal for sure!
The styles of "Lonely Angel/I'll Be Your Angel" aren't really the styles I lean toward in my own original music, so I wouldn't say it has helped define my personal style. It's helped me streamline my creative process and how to clearly articulate my ideas to the musicians/audio producer I collaborate with. I learned so much from the experience, which I have carried with me into my other musical endeavors.
DO YOU HAVE ANY ADVICE FOR YOUNG ARTISTS AND MUSICIANS JUST STARTING THEIR CAREERS, BASED ON WHAT YOU'VE EXPERIENCED?
Find mentors to guide you in creating music: Find those who can challenge you and support you. Be open to constructive criticism, and take the notes, ideas, and suggestions of those you respect and trust to rework your ideas until you are happy with the results. But don't stop there. Share with your friends. Your family. Anyone who will give you an honest critique. The more input you have, the more you can understand how your song is being received and decide how you want to adapt it.
Every no leads you closer to a yes: This is a tough industry, and you have to have a thick skin. The word "no" can be a tough one to hear, but it's true what they say: every no leads you closer to a yes, so don't allow no to stop you. I know how exhausting they can be. It's ok to step away and breathe, just don't ever give up. If I had thrown in the towel after my bad industry experience, I would have missed out on the best moment of my career with Bendy.
Know your strengths and weaknesses: I am not a composer in the traditional sense of the word. I do not play an instrument well enough to accompany myself, though my music education has made me just dangerous enough with a keyboard that I can notate basic chords and melodies. However, what I lack in traditional songwriting I make up for in creativity and with my ear. I listen to lots of different examples for ideas and inspiration, especially when I'm writing music of a specific time period or style. I can take what I like and articulate the ideas that I have for my song to my musicians and provide them with examples of what I am going for. Then I work with my lead instrument (usually piano) to flesh out the musical arrangement once I complete the song arrangement.
Find passionate, dedicated collaborators: I don't know what my music would sound like without the incredible team of people I'm fortunate enough to work with. If you're collaborating have a team of people who have your back and are as passionate and dedicated to your project as you. Let them bring their ideas and creativity to the table. They will personally invest in the music that much more when they are respected to be artists with it. You will find that in a collaboration that welcomes creative input, you will end up with something even better than what you had in mind, and that's a wonderful thing!
Have a clear vision: At the end of the day, it's about whatever serves the music and your artistic vision best. Always keep in mind it is your song and you have to be happy with the final results. Don't allow anyone else to let you compromise your vision for what you want with your music but be open to letting your vision evolve.
WHAT'S NEXT FOR YOU? ANY UPCOMING PROJECTS OR PLANS FOR 2021-2022?
I live in a world of NDAs, which means I am legally bound to keep my mouth shut! What I can say is I have more projects in the works and I have another song coming out in a game very soon that I can't talk about yet, BUT when I can I'll be sharing it on social media!
I will also be writing and releasing more original music, which you will hear in the coming months. There are so many thrilling endeavors I can't talk about, which is TORTURE, but I'm very excited for the future!
Follow Lauren Synger on:
Keep up with Lauren Synger and listen to their music on: