I spent Valentine's Day digging through fourteen million digital streaming assets trying to match them to those from our clients in our system. Three weeks later and I'm still not done. I don't say this for you to feel sorry for me (although if you'd like to buy me flowers, dinner, etc. who am I to stop you!), I say this because I'm one of the few people in music publishing equipped to tackle problems like these using data. I write a structured query to run identifiers through our database and matches return, while my counterparts at other publishers are hand matching on an excel sheet. Why is this relevant? There are so few data-savvy practitioners in this part of the music ecosystem and I want to give it a voice.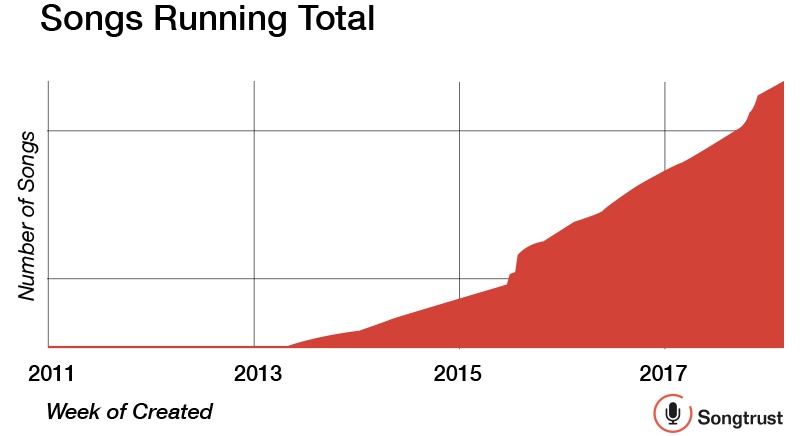 Data is growing from a music industry buzzword to an applicable practice with a small army of analysts, data scientists, and engineers taking ranks across many music companies. I am head of data strategy here at Songtrust and Downtown Music Publishing. My responsibility is to leverage internal and external data to exploit opportunities for our business and clients. It's something I take great pride in especially when, after digging though millions of assets and matching them, we get a large check for clients that we would not have otherwise received.
That is one of the myriad ways we use data in-house to better serve clients. Every song, every sign-up, every account -- is a data point that I use to better understand our user/client/customer base so that we can make better business decisions for them. As we only get a small percentage of the music royalties we collect, our revenue model makes us partners with all our clients. This means every dollar I am able to find from the data gets split between Songtrust and our user base. That's pretty cool!
I also use the resources in my data toolbox to collect amazing insights -- finding the most popular song in our catalog every quarter, what month most people sign up for our service, the number of countries we are most active in, and other fun tidbits that I share with our team. Then we provide fun visuals, charts, and the occasional gif to promote these insights and engage with our community. The best way to convey information is visually and I personally really, really love gifs.
With the increase of machine learning and algorithms, data and data jobs are only going to be more prominent across the music industry as we become better equipped to handle the information we have amassed. I am very confident being a part of that movement and being able to use those skills to help musicians and songwriters make a living. Data is transforming every corner of the music industry and the sooner we all adapt, the sooner we are able to make the entire industry more resilient to external trends and better understand its effects. But then again, maybe I'm biased.
Interested in being part of an innovative and technologically-forward team? Good -- we're hiring! Click here to go to Songtrust's Career page for all our open positions.