Ask any aspiring songwriter what they want (more than a #1 worldwide hit, of course) and they're likely to tell you they want a record or publishing deal.
For the last century or so, the traditional publishing deal has been a bedrock of the music industry. In its simplest form, it's a trade: You give up a percentage of your ownership and the royalties your music earns, and in exchange a music publisher will collect royalties and licensing fees, seek out synchronization deals for TV and film placement, and sometimes provide up-front cash advances.
Like everything else in the music business, things are changing. Traditional publishing deals are becoming harder and harder to come by, and in response, a growing number of songwriters are contemplating starting their own music publishing company.
Sound impossible? It shouldn't. The truth is that you don't need an MBA to take control of your music publishing, and these days there are plenty of resources including dedicated publishing administrators to help you manage the process. We'll describe how the process typically works and share some of the potential benefits of becoming your own music publisher.
Simple Steps to Forming a Music Publishing Company
Forming your own publishing company allows you to take complete control of how, when and where your music can earn money for you. Naturally, it takes a little bit of time and extra work, and there is paperwork and fees to manage, but, for those willing to take the reins, the rewards can be satisfying. Let's start with a simple outline of the necessary steps to form your own music publishing company. Note: these steps are US-centric. The steps will vary based on where you live.
Create a Business Entity or File a Fictitious Name Statement: Visit the website of the Secretary of State in your home state to find the requirements for creating a name for your company. You have the choice of creating a corporation or a limited liability company (known as an LLC) which will be your publishing company. If you prefer not to incorporate, you can instead file what's called a "Fictitious Name Statement" or a "Doing Business As" (DBA) Statement with the Secretary of State.


The DBA Statement informs the government and other interested parties that you're doing business as a music publisher using a name that's not your own. Without that statement, you won't be able to open a bank account or cash checks made out to your company. Make sure the name you choose is unique in order to make sure your royalties aren't misallocated further down the road.

Set up a separate bank account: It's also a good idea to think about setting up a separate bank account just for your publishing company. As BMI states, "In most locales, proof of completion of these forms [business entity or LLC forms] is required in order to open a bank account in the name of your business. This is necessary in order to cash checks drafted to your company (such as performance and mechanical royalty checks)." This is a personal choice, but can help to differentiate between your personal and business expenses, as well help when dealing with taxes each year.
Affiliate Your Company with a collection society: This next step should be familiar to working songwriters. You'll need to affiliate your new company with a collection society such as a Performing Rights Organization (PRO) like ASCAP or BMI in the US. While you may already be registered as a songwriter, now you'll register your company separately.

You can not collect your publisher's share at a different society from where you are affiliated as a writer. However, if you're thinking big and planning to publish music from another writer, you may consider registering with the collection society they're affiliated with or creating multiple publishing entities for each. The approval process takes several weeks, and there will typically be an application fee required.

Register your Company's Songs with the Copyright Office: Next, you'll need to contact the US Copyright Office to register for Sound Recording (SR) copyrights for the songs under your company's control. This can be done online, and typically takes a few months to process. If you've already copyrighted songs in your own name, you'll need to transfer those rights to your publishing company.
Hire a Publishing Administrator, such as Songtrust: If you're the kind of person who loves attending to each and every detail, you'll be kept happy and busy running your own publishing company! For the rest of us, there's good news: Owning your own publishing company doesn't mean you have to handle each and every detail all by yourself. A publishing administrator, like Songtrust, is equipped to handle the administrative paperwork and then help you access your global publishing royalties.
Benefits of Owning Your Own Publishing Company
If you're a songwriter looking to keep complete control over your songs and exercise all the creative control until the right publishing deal comes along, starting your own publishing company might be the next step for you. Another option is creating a personal publishing entity.
Some songwriters also create their own publishing company or entity for the benefits that come on the business side such as taxing their publishing income vs their personal income, and ensure they are collecting the maximum amount of their publisher's share.
Remember: When you sign an agreement with a music publisher, you often give away the rights to your copyright in exchange for services, such as collecting royalties and helping to exploit your music through sync placements.
In the end, whether or not to sign with a music publisher is a highly personal decision, as is the choice whether or not to create a publishing company on your own. Just know that if you do choose to have your own company, you don't have to go about it alone. Songtrust is here to support you if you decide you need help administering your own publishing. When you register with Songtrust as your publishing administrator, we'll make sure that, as both a songwriter and a publisher, you're collecting all the publishing royalties—here and all over the world—that you've earned.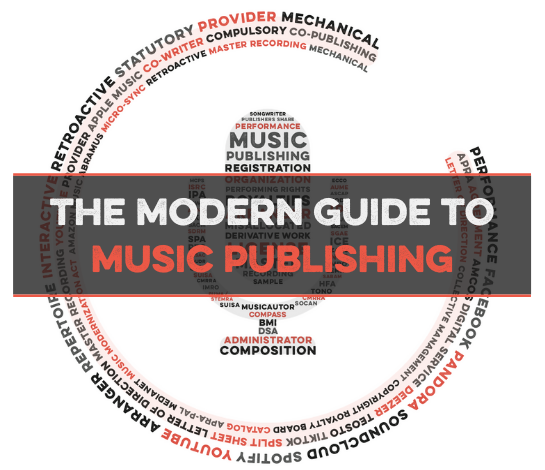 Take control of your publishing. Maximize Songtrust for your songs and business.
We created this guide to answer a simple question: How do songwriters support themselves?
The answer is not as simple as we'd like, but our goal is to make it as clear, transparent and understandable as we possibly can.
Songtrust is more than just a rights management platform and publishing administrator - we're a team of experts in the music community who strive to educate, support, and provide thought leadership to creators, representatives, and businesses across the music industry.
Our hope is that you'll finish this guide with an better understanding of the business behind songwriting and have actionable resources to help you be successful.
Related Articles
Music Publishing Resource
Music Publishing Resource