Songtrust is a publishing administrator who is working to get all of your hard-earned publishing royalties collected and reported in one place, but what happens behind the scenes? How does Songtrust ensure that we're collecting all of your royalties from around the world?
It may not surprise you, given how complex music publishing often seems, that the answer isn't simple, and that it involves a lot of hands-on work from different departments at Songtrust, who work with large amounts of data and are continually in touch with our collections partners and pay sources.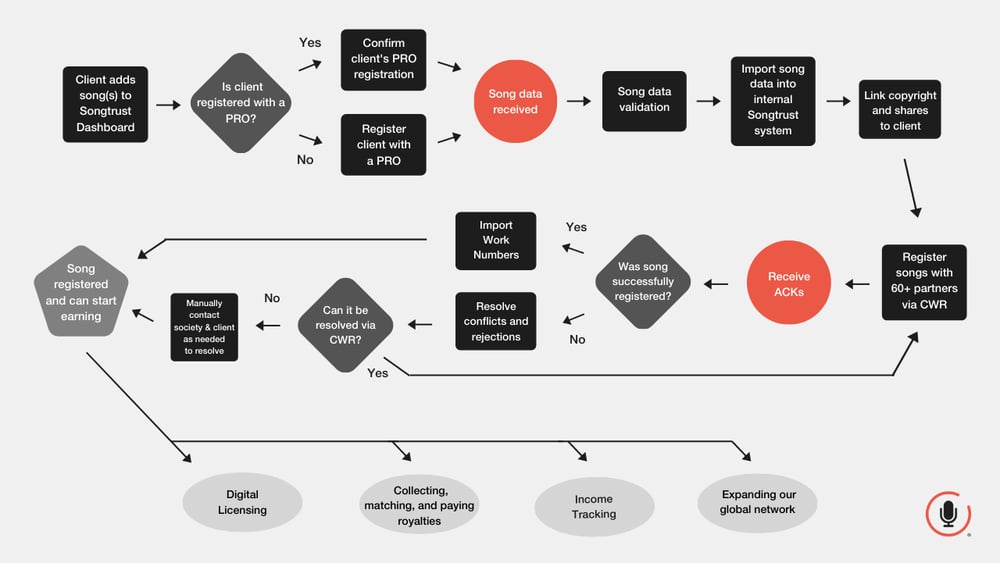 Click the image above to enlarge
In this article, we'll break down how Songtrust works behind the scenes - how the different departments work together to collect all of your royalties, and why they're each so important.
Copyright
Once you've joined Songtrust, added your songwriter information, and added songs into your account, this information is added into an internal database designed to handle massive amounts of data. The Copyright Team is the first stop for your information. One of their primary functions is to format, repackage, and send out composition data to music societies for global registration. These societies receive the data and send back acknowledgement (or "ACK") files. The Copyright Team's crucial work ensures that your song data makes it to all of our pay sources around the world, and that we're able to ensure that they've registered your works and are collecting on them correctly.
Income Tracking
To ensure that our clients collect all the royalties they've earned, Songtrust proactively works to pinpoint potential conflicts that would prevent the payment of royalties within our global network of societies. This is where the income tracking department comes in. Their focus is to maximize the amount of royalties that are paid to Songtrust clients, so they take a hands-on approach to collecting any outstanding revenue from our pay sources. The income tracking team thoroughly reviews the royalty distributions sent by Songtrust's pay sources, as well as performing case-by-case analyses when specific royalty earnings come up short. Their analysis uncovers any payment gaps, at which point they submit corresponding claims to the pay sources to ensure accurate and timely payments.
Royalties
Once Songtrust receives royalties, the pay source statements need to be processed, calculated, and matched to Songtrust client works. Because the royalty data comes from so many pay sources globally, we receive it in numerous different formats - so it must be reformatted to be matched to each song in Songtrust's internal database of over 3 million works. Songtrust's royalties team processes all of this income data to get it into the proper places and to the correct clients and their works.
Licensing and Agreements
Before we're able to get paid for any of our clients' works, Songtrust must enter into licensing agreements with PROs, CMOs, DSPs, and other pay sources around the world. Our global network of over 60 unique pay sources ensures that our clients can collect from 98% of the worldwide music market, but they also require relationship management, renegotiation, and continual updates as new types of music usages evolve with technology. Our licensing and partner relations teams work to establish and maintain close working relationships with our global partners.
We're Passionate Because You're Passionate
With over 3 million unique songs and over 350,000 songwriters, a lot of data and registrations need to be skillfully managed to ensure that each of our clients' songs is properly matched and registered. Beyond this, Songtrust has a whole network of other teams, from client services reps who answer your questions, to developers and data analysts who continue to automate and improve internal functions, to maintain the Songtrust site, and to make the whole process as seamless as possible. Our team is made up of songwriters, musicians, and industry experts alike, and we're passionate about the work we do just as you're passionate about your music career.
If you have questions about music publishing or Songtrust, check out our help center, sign up for one of our Music Publishing 101 workshops, or reach out to our team directly. If you are a current Songtrust client or are inquiring about an existing Songtrust account, please use our Support Form to submit a ticket and reach our Client Services Team. You can find this form by logging into your account and finding the link on your client dashboard.