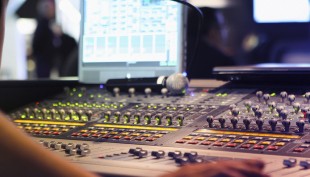 This article was written by Dave Simons for BMI on July 18, 2011.
There's no better way to test your mettle as an audio engineer than to open up your studio to visiting musicians for fun or profit (preferably the latter). Setting microphone levels and sorting out other technical detail is one thing; however, home-studio producers must also be prepared to deal with frayed nerves and large egos, and, above all, know when it's time to say "good enough, let's move on." Here are a few basic ideas for maintaining as productive an atmosphere as possible while running a recording session.
1. Insist on preparedness. To avoid needless delays, start by ensuring that all band members arrive on time for the session (several studio owners I know begin charging once the first car arrives in the driveway). While some re-tooling of material is to be expected on the job, try to discourage major structural revamps (such as writing an entirely new set of lyrics from scratch) during session time. Remind them, the clock's ticking — get it done now and save the money for the warm beer at the lousy bar up the street.
Read the full article here for more Recording Session Rules