When you're on the road, it may not be so easy to grab a notepad and a pen to scribble down a song lyric, or find a piano to nail down the perfect chord. Maybe you have a service like Songtrust to send your playlists to PROs across the world, but you don't have an app to help with your daily budget. Never fear – here are just a few apps that can make life on the road (or just stuck driving between gigs) a little easier.
Song-Writer Lite
Ever wish you had a place to store all the songs you've written on scraps of napkins and old receipts? This app lets you organize your songs with two premade folders and gives you the option of creating and naming your old folders so you can easily find whatever you put into them. You can title your song as well as write lyrics for each section of your song (including verse, chorus, and more). Use the chord picker option to easily insert chords, add guitar tablature, and view over 1,000 chord diagrams for guitar, bass, ukulele and banjo. Cost: Free
QuickBooks Self Employed
When you're on the road, that doesn't mean your financial obligations back home freeze during your absence. Automatically track your mileage, attach receipts to business expenses, create invoices and keep your personal finances separate from your work finances – plus make sure you get any tax refunds that might be coming to you. Cost: $10/monthly
SoundCloud Pulse

Have a SoundCloud account? After you've created a recording in that app, Pulse allows you to not only track how well it performs, but reply to comments on your track, follow other users, and share sounds you've uploaded (either publicly or privately). When you're touring, you may want to opt for the Pro version of Pulse, which allows you to get advanced stats on your most engaged fans, top countries, and top cities. Cost: Free
Rhymer's Block
We can't all be Eminem – and that's where Rhymer's Block comes in. When you're struggling to find a rhyme for your song (or even write a poem), this app offers not only basic rhymes but near rhymes and slant rhymes. The app also highlights and color-codes rhymes and has a social feature that allows you to show "respect" to other users and share your work. Cost: Free, but iOS only
FourTrack
FourTrack acts as a fully-functional four track recorder that has almost as many perks as a real recording studio. The app allows input monitoring, a metronome function, calibrated meters and faders, master FX and EQ, file import and sharing and even lets you record along with real drums, including beats by Jason McGerr (Death Cab for Cutie). There's Dropbox sync, too. Cost: $4.99
Expensify
With a free trial and $5 monthly fee for the most basic level, Expensify is a basic accounting app that can be synced with Quickbooks or Xero, help you log and track receipts, and track mileage. There's automatic credit card import, too. Cost: $5/monthly
Suggester
Writing a song and stuck on the next chord progression? Suggester easily finds chords that work together, allows you to pick chords from a huge catalog, explore classic chord progressions, and save your work. You can also drag and drop to reorder chords, too. Cost: Free ($7.99 to unlock all features)
Evernote
Sure, you want to keep track of lyrics and melodies as they come to you, but sometimes you want to work with your bandmates, too. Evernote lets you share your notes or lyrics with a group of users, set reminders about what you want to discuss in the next band meeting, and even record the conversation. Cost: Free
Simple Songwriter
This app lets you quickly and easily generate song ideas, record them, find the right chords, play with tempo, and even create modulations and inversions. The app helps you identify the key of a song, and can instantly change the key of a song, too. While the app has some limitations, it's also (as the name suggests) a simple and easy way to work on your songwriting. Cost: $4.99
To make sure you're collecting all of your mechanical and performance royalties globally, register for Songtrust as your publishing administrator today!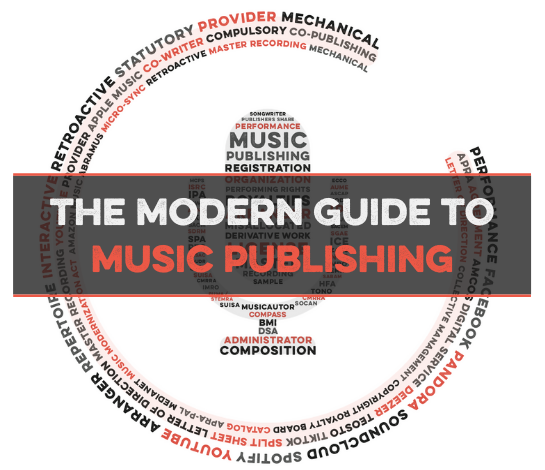 Take control of your publishing. Maximize Songtrust for your songs and business.
We created this guide to answer a simple question: How do songwriters support themselves?
The answer is not as simple as we'd like, but our goal is to make it as clear, transparent and understandable as we possibly can.
Songtrust is more than just a rights management platform and publishing administrator - we're a team of experts in the music community who strive to educate, support, and provide thought leadership to creators, representatives, and businesses across the music industry.
Our hope is that you'll finish this guide with an better understanding of the business behind songwriting and have actionable resources to help you be successful.
Related Articles
Music Publishing Resource
Music Publishing News, Music Publishing Resource