While many setlists have been (and undoubtedly will continue to be) hastily scribbled on napkins and scraps of paper, that doesn't mean they're not valuable – a handwritten Nirvana setlist, complete with a dirty footprint, sold for a cool $10,000, after all. A setlist doesn't have to be a collectible item or concert souvenir for it to have worth. In fact, songwriters earn performance royalties from when their songs are played in public, and submitting their setlist is key to getting those royalties.
Many performing artists are unaware that their setlist, whether it's handwritten or printed, can actually earn them royalties in addition to their gig – whether that performance is from a gig during a whirlwind world tour to a humble open mic night at a coffee shop. If you own the rights to the song and submit your setlist to your publisher, they can submit it to your performance rights organization (aka PROs) for extra earned royalties! Getting that setlist into the right hands, whether while on the road or a gig at the local bar, can be a daunting task for any artist – though not doing it means leaving money on the table.
Songtrust is the first publishing administration platforms to allow clients to register setlists for international shows, giving rights owners an opportunity to collect live performance royalties simply and easily. While US PROs don't allow publishers to submit on a songwriter's behalf, we will guide you through the process for shows played in the US as well.
Fortunately, registering a setlist isn't hard, and Songtrust also allows users to review past earnings on an interactive Reports page. The setlist needs only be inputted into the Songtrust dashboard – a task that can be done on any computer, anywhere in the world. It means stuffing wrinkled setlists in an overstuffed suitcase is no longer necessary – but they still make great souvenirs.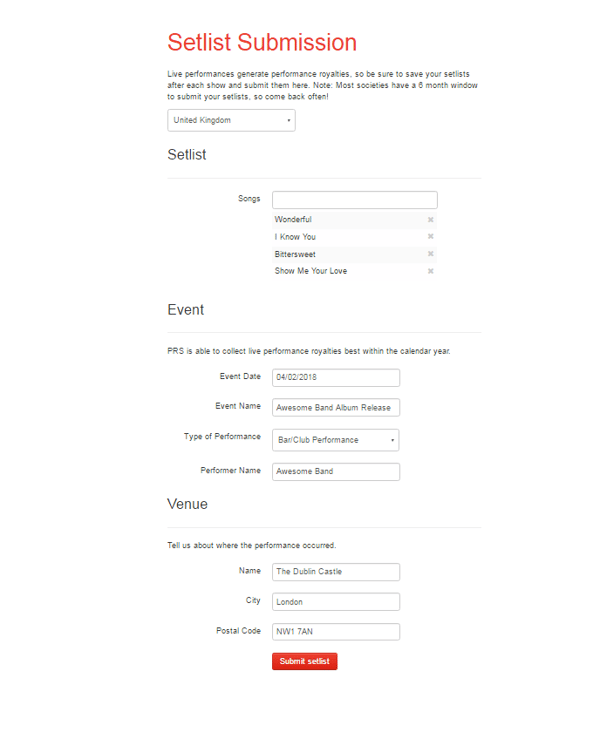 Use our guide and example of a filled-in Setlist submission to properly submit your setlists. To make sure you're collecting on all your live performances, sign up for Songtrust and submit your setlists!
Photo by Tim Wright