While many setlists have been (and undoubtedly will continue to be) hastily scribbled on napkins and scraps of paper, that doesn't mean they're not valuable – a handwritten Nirvana setlist, complete with a dirty footprint, sold for a cool $10,000, after all. A setlist doesn't have to be a collectible item or concert souvenir for it to have worth. In fact, songwriters can earn performance royalties when their songs are performed live in public, and submitting a setlist is key to getting those royalties.
Many performing artists who are also songwriters are unaware that their setlist, whether it's handwritten or printed, can actually earn them royalties in addition to their gig – whether that performance is from a gig during a whirlwind world tour to a humble open mic night at a coffee shop. If you own the rights to the song and submit your setlist to your collection society, that's extra earned royalties! Getting that setlist into the right hands, whether while on the road or a gig at the local bar, can be a daunting task for any artist – though not doing it means leaving money on the table.
What Do I Need to Submit my Setlist?
Let's start with what you need in order to submit a setlist. The information needed varies depending on the collection society, but generally, need the following:
Venue Name

Date of Performance

List of Songs Performed
Some collection societies require more information, so it's important to know what the local society is where you'll be performing and what is required for setlist submission. The next important piece is understanding that you submit your setlist to the local collection society where you are performing. So, if you're playing at a show in New York, USA, then you'd submit that setlist to one of the US Performing Rights Organizations like ASCAP. If you're playing a show in Germany, you'd submit it to GEMA.
Setlist Submission Timelines
Another important piece to know is that there is a time limit on when you can submit your setlists. Submission deadlines vary but generally are required within six months of your performance. Here at Songtrust, we encourage all creators to submit your setlists as soon as possible.
Outside the US, you can submit a setlist either before or after the show has taken place. If it's a big or major concert, the revenues linked to the specific event usually will only be triggered for distribution when a set list is received. Otherwise, the foreign society will hold on to these royalties until they receive setlists from an authoritative source (e.g. the concert promoter, the artist/artist management, the venue of performance, one or more foreign PROs whose members works were performed).
However, there are some instances where the distributing society will get multiple setlists for a concert, all from authoritative sources. The society will most likely have already distributed the royalties based on the set list of the first authoritative source that they receive from. But if subsequent setlists are submitted that contradict the first, the collection society will most likely investigate further and make adjustments to the first distribution, if necessary.
For smaller gigs/shows/concerts (e.g. bars, clubs, coffee shops, etc) the above may not apply as different foreign collection societies have different distribution rules when it comes to smaller events. Smaller, less developed foreign collection societies may not always accept and pay out on set-lists for small gigs/shows, but this should not stop you from submitting anyways.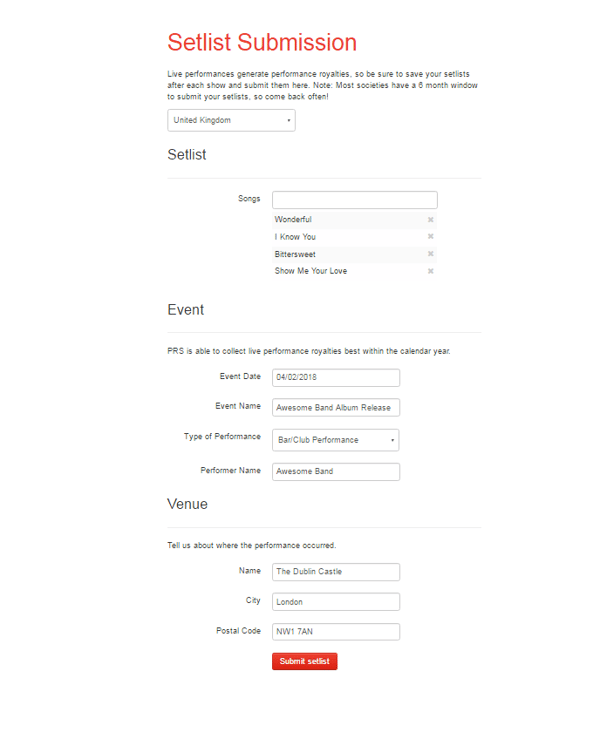 Who Can Submit My Setlist?
Like much of publishing, it depends on the collection society on who can actually submit the setlists. Generally, in the US, only the performer can actually submit their setlist to the collection society, meaning you would directly submit on, say, ASCAP's website. Internationally, some societies allow publishers, managers, etc submit on behalf of the creator. Songtrust, in fact, is the first publishing administration platforms to allow clients to register setlists for international shows, giving rights owners an opportunity to collect live performance royalties simply and easily. While North American PROs don't allow publishers to submit on a songwriter's behalf, we will still guide you through the process for shows played in the US as well.
Fortunately, registering a setlist isn't hard, and Songtrust also allows users to review past earnings on an interactive Reports page. The setlist needs only be inputted into the Songtrust dashboard – a task that can be done on any computer, anywhere in the world. It means stuffing wrinkled setlists in an overstuffed suitcase is no longer necessary – but they still make great souvenirs.
Whether you're just learning about setlist submission or being reminded that you need to submit last week's show, knowing what you need to submit that setlist is important. Need a checklist to keep you on track? Download our guide here. Want to learn more from our publishing specialists? Check out our past Success by Setlists webinar, here.