When Clover Hope started brainstorming her first book a couple of years ago, the Pitchfork editor/adjunct NYU professor kept coming back to one topic: the sparsely told storylines of women in hip-hop.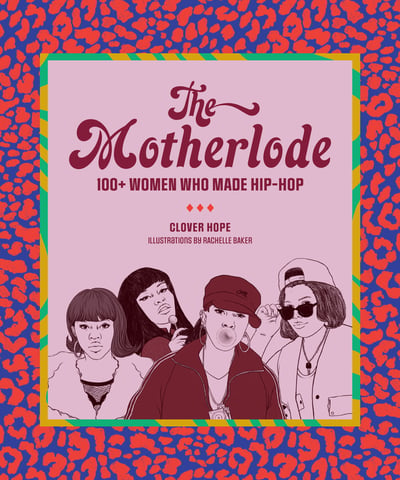 "We have so many histories of men who were big in hip-hop from the beginning until now," explains Hope. "I wanted to tell the same story from the perspective of someone like me, a young girl who is a fan but doesn't always see themselves reflected in the culture the same way that guys do. Sort of a coming-of-age celebration of the women who made the culture — an alternate history of something people already know."
She didn't just scratch the surface with stars like Salt-N-Pepa, Lil' Kim, and Queen Latifah, either. True to its title, The Motherlode features "100+ women who made hip-hop," making it the definitive account of a topic writers have taken far too long to properly tell.
In the following interview, Hope discusses everything from the surprising lack of female rap crews to the long and winding road that led us to modern-day MCs like Nicki Minaj and Cardi B.
---
DO YOU HAVE A THEORY AS TO WHO THE "FIRST FEMALE RAPPER" WAS, OR IS THAT TOO CONTROVERSIAL TO GO ON THE RECORD WITH?
It's kind of tricky because the word "first" comes with so many possibilities. For the purpose of history — just based on the people I spoke to, and the sequence of events — I think we could give credit to MC Sha-Rock.
Outside of that, there were so many women creating the culture at that time. A big part of the debate with women was that because they didn't get recognition, that title means a lot to them. It's like, 'You don't even remember us for even being around.' So they want that title to make them a part of history.
MOST OF THE WOMEN IN YOUR BOOK ARE BLACK, AND ALMOST ALL OF THE OTHERS ARE BIPOC. WOMEN IN RAP SEEM LIKE A PARTICULARLY INTERSECTIONAL TOPIC, AS WE'RE TALKING ABOUT WOMEN IN A LARGELY MALE GENRE AND INDUSTRY, AND BIPOC MUSICIANS IN AN INDUSTRY WITH AN INCREDIBLE HISTORY OF EXPLOITING NON-WHITE MUSICIANS. DO YOU THINK THAT THE INCREASING INTEREST (AND/OR LIP SERVICE) IN DE&I IN TERMS OF BOTH BIPOC AND WOMEN AND GENDER MINORITIES AMONG THE TOP MUSIC COMPANIES, PARTICULARLY MAJORS, WILL HAVE A KNOCK-ON EFFECT IN OPENING DOORS TO WOMEN RAPPERS? OR WILL THIS HAVE TO COME FROM WITHIN THE GRASSROOTS SCENES AND/OR FORCE THEM INTO ACTION WITH VIRAL SUCCESS?
I think it will be a little bit of both. The proliferation of women rappers right now will have an ongoing effect because people are always looking for what works — for the next Megan Thee Stallion, the next Cardi B…. In that sense, it allows for more of an influx of young voices and people who are just trying to get into the door.
And then if they can't get into the door that way, they have this other model of viral success — of starting from the ground up on your own, through the internet. Someone like Dojo Cat… Before she became one of the biggest pop stars right now, she had a kind of novelty song about a cow.
WHAT WAS THE MOST SURPRISING STORY YOU HEARD WHILE WORKING ON THE BOOK? HOW ABOUT THE WILDEST FACT? (I AM OBSESSED WITH THE SEQUENCE'S CHEERLEADING CONNECTION, PERSONALLY.)
That one was a good example because I was looking for ways into each artist that wouldn't just be an encyclopedia entry — like "so-and-so was born in blah, blah, blah."
I wanted it to be like, 'All right, what was special about them?' Sort of like a profile, like what can I lead with? With The Sequence, they were cheerleaders in high school, and their record "Funk You Up" is like the equivalent of them chanting during a game or something. They kind of [applied] that spirit to their songs.
That was also a very early example of hip-hop with rhythmic singing. A lot of hip-hop started out that way. It's funky party music — super upbeat and set to rapping.
I'm trying to remember [other stories] 'cause I spoke to so many different women…. One great one was Heather B. She has this connection to reality TV through The Real World and started out as a rapper. You know, she was probably the first Black woman on reality TV since The Real World was the first reality show and she was on the first season. With things like that, you see the impact these women had not just on music, but in other forms of entertainment and culture.
THE QUESTION OF LABELING CAME UP A LOT AMONG THE ARTISTS PROFILED IN YOUR BOOK. DO YOU THINK WE'LL EVER GET TO THE POINT WHERE, LIKE REMY MA WANTED, WOMEN RAPPERS ARE JUST CALLED "RAPPERS," LIKE DOCTORS OR LAWYERS? OR SHOULD WE JUST BE GRATEFUL THAT "FEMCEE" DIDN'T TAKE?
I do think that is happening maybe. A little bit, very slowly, because I think when people see a Cardi B or Megan Thee Stallion, they're not the same…. When they put out a song like "WAP," that brings attention to women rapping, obviously. You know, "female rapper Cardi B." But I also think it's just a [great] rap song in general.
So maybe along the way, that word does not have to be a qualifier. I think we need to get to a point where it's so normal that people don't even think about it. Where it's like, 'Oh yeah, of course, we have two women in the Top 10 of the charts.' In the same way that people are doing away with certain labels when it comes to gender or sexuality; we're kind of moving in that direction.
THE EARLY HIP-HOP WORLD WAS SO FOCUSED ON "CREWS," MANY OF WHICH HAD NO WOMEN. AND THOSE THAT DID SEEMED TO HAVE THEIR ONE TOKEN FEMALE MEMBER. IT REMINDS ME OF THE CURRENT UNDERGROUND HIP-HOP WORLD, WHICH IS SO FOCUSED ON LABELS AND PRODUCTION COLLECTIVES — WHICH ALSO OFTEN SEEM TO HAVE THEIR ONE TOKEN WOMAN RAPPER WHO DOESN'T NECESSARILY GET THE SAME SHINE AS THE "STAR" MALE RAPPERS. GRISELDA WITH ARMANI CAESAR, AND TRUST ARMY WITH CHE NOIR, FOR EXAMPLE. THE BIGGER INDEPENDENT WOMEN RAPPERS TODAY — LIKE NONAME, YOUNG M.A., CUPCAKKE, AND PRINCESS NOKIA — ALL SEEM TO BE GOING IT ALONE. HAVE YOU NOTICED THIS, AND DO YOU HAVE ANY THOUGHTS ON WHY THIS MIGHT BE? WHY ISN'T THERE JUST, LIKE, A GRISELDA, BUT IT'S WOMEN.
I know — exactly. I mean, that's a great question. It makes me think of the [Chrome 23] series Remy Ma has coming out. It's a battle rap show with all women. It's kind of crazy we haven't had something like that, in the same way, that it's crazy that there hasn't been an all-female rap crew.
When I talked about The Mercedes Ladies at the beginning of the book, they were around in the '70s. It just doesn't happen [anymore]. I would love to see a team-up where it's like…. You know, Griselda is a great example — crews like that, ASAP Mob, or Odd Future. They had Syd [tha Kyd]; there's definitely space for that.
Maybe because there are so few that get in the door to begin with, it's hard for there to be a crew to settle into that space. I do think that it would be the next frontier, because — exactly what you said — it would be huge. It would be like, 'Oh wow, we haven't seen this before.' As long as they're talented, and they each have their own kind of unique thing. I could see a group like that having a big impact on the way Griselda does…. We need to make it happen.
IT SEEMS LIKE WOMEN RAPPERS ARE REQUIRED TO BE HYPER TECHNICALLY ADEPT (AND USUALLY FAST) TO BECOME "RESPECTABLE" AND POPULAR. I'M THINKING OF VIRTUOSOS LIKE MEGAN & NICKI; IT ALMOST FEELS LIKE THAT'S THE BARE MINIMUM FOR A WOMAN RAPPER TO CROSS OVER TO THE HEADS AS WELL AS THE POP WORLD, WHEREAS THERE IS MORE LEEWAY FOR MEN TO HAVE DIFFERENT STYLES. DO YOU THINK THIS IS JUST THE "BACKWARDS, IN HEELS" OF RAP, OR IS THERE MORE TO IT BASED ON THE HISTORY OF THE GENRE AND WOMEN'S INVOLVEMENT?
Yeah, I do think that Nicki's success showed — and she was very vocal about this — that in order to break [through], she did need to penetrate the pop space like previous commercial [artists]... Lauryn Hill was the biggest example of this — of having a No. 1 single. That is very rare.
I think women rappers know that in order for them to break outside of the independent space, or be part of a crew or something, there's a certain audience they have to reach. I think Nicki put the pop into her music, whereas someone like Eve — someone very street — did pop [music] with Gwen Stefani. That helped her break out even more.
Nicki actively tried to [walk] that line by putting singing and Euro-style beats in her songs, and working with David Guetta. I think that helped open the doors…. Doja Cat is the biggest example of a Nicki spawn making rap music that is meant to be pop.
I think rap needs to cross over in order to be commercial because American fans are predominantly white. You can't be something like Griselda. I'm not sure if they're on the charts like that, [but] they are super big in the rap space… Any rapper needs to break into that [pop] world in order to be recognized or become a household name.
THAT TOTALLY MAKES SENSE. AND THERE IS THAT TENSION BETWEEN IF YOU'RE 'GOING POP' BUT ALSO HAVE THIS EXTREME TECHNICAL SKILL — OF WHETHER YOU ARE ABLE TO LIKE TOW THAT LINE.
It's a hard one because authenticity is still a thing in hip-hop, and I think it's definitely more accepted to kind of color outside the lines a little bit…. Kendrick [Lamar] might be the closest to someone who blurs the lines a little bit. It'd be great to get a woman who was doing the same thing that he has done in the past few years.
ONE HUNDRED PERCENT. THAT'S A GREAT EXAMPLE — A RAPPER WHO'S REALLY POPULAR BUT STILL PUSHES BOUNDARIES. YOU MENTION THE "DROUGHT" OF WOMEN IN THE MAINSTREAM RAP SCENE BETWEEN LIL' KIM AND NICKI MINAJ. I'M CURIOUS IF YOU HAVE ANY IDEAS ABOUT WHY THAT HAPPENED AND WHAT IT WAS ABOUT THAT TIME PERIOD, AND NICKI SPECIFICALLY, THAT ENABLED HER TO BREAK THROUGH THAT INDUSTRY INERTIA?
The music industry was having an identity crisis between the late '90s and the [emergence of] boy bands and things like that. It was around the same time that people were downloading music illegally on Napster and labels did not know what to do with people not wanting to buy CDs.
I think that was a big transitional period in general, where [the music industry] had to figure out how to market to people who weren't necessarily buying records. And in the middle of that, women MCs kind of fell through the cracks.
You know, you had that era of, like, Eve and Trina — the early 2000s-ish — and then there was a little bit of a drop-off before Nicki. It was like there were no women on the charts. It's like they had this identity crisis and had to figure out 'what do we do with women?'
Nicki had to basically prove that 'here is a formula; here is a blueprint that we can follow to achieve success.' And then Cardi B kind of tweaked that with her social media following. So there are now two different proven ways of success in our generation. We just had to transition from what worked in the previous generation, which was like, 'All right, come in through a crew.' I think we needed a new template for women.
BECAUSE SONGTRUST IS A MUSIC PUBLISHER, I ALWAYS THINK ABOUT RIGHTS ISSUES. THE INCREASED CRACKDOWN ON SAMPLE USAGE CAME UP IN THE BOOK AS A MAJOR ISSUE FOR INDEPENDENT AND LESS FINANCIALLY BACKED RAPPERS AND PRODUCERS. CAN YOU SPEAK TO ANY INSTANCES WHEN WOMEN WERE PARTICULARLY AFFECTED DUE TO THE RELATIVE INSTABILITY OF THEIR POSITIONS? THERE ARE SO MANY HIP-HOP LEGENDS WHO HAVEN'T BENEFITED FINANCIALLY FROM THEIR PIONEERING ROLE, AND THIS SEEMS ESPECIALLY TRUE FOR WOMEN.
That didn't come up, but it's a good issue [to point out]. Maybe a thing that might've affected women with mixtapes or bootleg CDs that are passed out in the street. It was easy to have on-the-ground promotion [then].
Nicki came up through mixtapes and then there was an element of mixtapes online with DatPiff and other websites where you could get free mixtapes. With streaming, it's very hard to find mixtape content…. Nicki's Beam Me Up Scotty mixtape on Spotify was a big deal because you usually can't clear [the samples for something like] that. So if you take away [mixtapes] as a way in for rappers, women are already kind of at a disadvantage. Not being able to use that mixtape approach to marketing makes it a little bit harder to get in the door.
You can obviously just put a song out online now, but there was a gap between mixtapes and [when] streaming became the dominant source of listening to music…. It wasn't like you could easily find out about newer artists if you weren't signed up for a service. You know, it took a while for the Spotifys and Apple Musics of the world to get off the ground. I think that within that gap, women didn't have a platform to get their music noticed.
I think of samples as a big issue when it comes to that. I don't know what the answer is.
THAT MAKES SENSE. IT'S LIKE ACCESS TO THESE STEPPING STONES.
Exactly.
I HAVE ONE FINAL QUESTION; WE KIND OF TOUCHED ON IT EARLIER…DO YOU THINK THAT THE DIVIDE BETWEEN "SEXY/GLAMOROUS" RAPPERS LIKE LIL' KIM AND WANDA DEE AND "STREET/TOMBOY" RAPPERS LIKE MC LYTE AND QUEEN LATIFAH IS STILL SOMETHING FACED BY UP-AND-COMING WOMEN? DO YOU THINK THERE'S PRESSURE TO CHOOSE A SIDE?
I'm not sure, but I do think they're still a template of what works. When you look at the top women on the charts — the most popular names, like Megan, Cardi, Saweetie, and Doja — there is a certain amount of sexiness that they are selling. That is an element of pop music in general that works specifically for women in hip-hop.
A young rapper coming up might be like, 'All right, well, that's still the thing that is selling.' So it's good that they can also see other archetypes — like a Noname, CHIKA, or Tierra Whack — who are doing their thing in their own way. I do think there's still [a ceiling]; while Tierra Whack is critically acclaimed, more people know Cardi B or Megan's name.
So there's still a barrier to entry when it comes to what type of woman rapper people think will sell. In that way, I do think the street/tomboy look is not the dominant one right now. I mean, there was a time where there was a mix — where it was like MC Lyte, Queen Latifah, Salt-N-Pepa, and all that.
If you're an up-and-coming woman rapper, you are definitely thinking about it. But I also think this generation is more open to doing their own thing. Like Rico Nasty; she is super punk, and she has her own fanbase. She's not trying to fit into any kind of mold and has her own level of success.
Some will probably think about it and feel like they need to fall into that sex sells lane, and some will be like, 'I don't want to do that. I want to do my own thing.' There probably is a divide, at least in commercial music.
WELL, IT'S INTERESTING THAT YOU MENTIONED THAT, CONSIDERING HOW THE CONCEPT OF A GENDER BINARY IS CONTINUING TO EXPLODE WITHIN OUR CULTURE IN AMAZING WAYS. MAYBE THAT WILL HAVE AN EFFECT ON THIS, AND HOW MUSICIANS WITHIN VARIOUS GENRES PRESENT THEMSELVES.
I think we're still moving toward that. Saucy Santana is a perfect example of people just needing to see what works and be like, 'Let's do that again.' Unfortunately, that's how business works.