Today, music is so entwined with digital technology that it has become the premier way to work with music -- whether it be distributing your album, recording a song, or even collecting on publishing. Songtrust seeks to make sense of it all, while working tirelessly to get all of your global publishing royalties, keeping you informed, and up-to-date with your song's registrations and overall performance.
Who we are
Songtrust is the world's largest technology solution for global music publishing royalty collection and administration. It was founded to simplify music rights management and remove the complexity of the publishing landscape. We seek to make the music publishing landscape easier to navigate and maximize global publishing income potential for creators around the world. We do the heavy lifting, so you can do what you do best -- create!
What we do
At its core, Songtrust is a unique administrative publishing platform. Do you own the original music, or composition, to your songs? Have you released songs digitally before? Have they gotten some play? Chances are, you're due publishing royalties for these plays. This is where Songtrust comes into the picture. Anytime a song is streamed or reproduced, publishing royalties are created (note: these are different from master royalties). We allow anyone to join in exchange for a small administrative fee and one-time sign up fee. You maintain 100% of your rights while we register you with global collection societies and pay sources around the world.
With today's market being primarily in the digital sphere, publishing royalties are increasingly hard to track down and creators are leaving money on the table more now than ever. Songwriting credits are also being offered to creators throughout the process, including producers, studio musicians, or people just hanging out in the studio. Because of this, Songtrust works with a variety of different people -- from record labels, publishing companies, and lawyers to songwriters, producers, composers, and more. In fact, we have over 350,000 songwriters that put their trust in us to administer their over 3 million copyrights. Here, we'll highlight a few types of clients we work with.
Songwriters
Songwriters use Songtrust to register and collect publishing royalties on their songs. They upload their titles and percentage of ownership and receive quarterly payments from Songtrust once their songs are registered. All clients maintain full ownership of their catalog and can choose what songs they'd like us to register and collect (in case you already have an existing deal).
Producers
Producers are increasingly being offered more songwriting credits than ever before. Sometimes figuring out splits on songs can be tricky, so be sure to clearly negotiate songwriting credits as soon as possible in the songwriting process. Whether they own 1% or 50%, Songtrust can register producers' split percentages and collect what they are due. Need help getting your publishing split? Check out our split sheet template.
Bands and Artists
Bands and Artists use Songtrust to register their songs and split percentages as well. Make sure to only submit original songs, as cover songs cannot receive publishing royalties, unless they are covers of a song within the public domain. They also use Songtrust's live setlist submission tool when they're on tour or even playing a gig locally. It's often overlooked that live performances can generate performance royalties, but you can only collect if you properly register your setlists with your performing rights organization (PRO) or collective management organization (CMO). If you're a band or have co-writers, be sure to check out our split sheet template to get on the same page when registering your song splits.
Labels
Labels who also represent publishing rights use Songtrust to power their publishing collection. Labels can play a bigger role in finding creative uses for their music without worrying about the administrative aspects of publishing. If you're operating as a record label, Songtrust can easily handle publishing administration for your artists if you'd like to incorporate publishing into your business model and provide features that let you easily manage multiple artists at once. Oftentimes, this makes creative pitching and ad placements easier for labels when seeking to license out their songs.
Managers
Managers can use Songtrust to collect royalties in a flexible deal while they search for future (and bigger) opportunities for their writers/artists. Shopping around for traditional deals can sometimes take upwards of 2-5 years, and then there are also artists and managers who want to stay independent to maintain more creative control over their catalog. As with labels, Songtrust provides features to help easily manage multiple writers and keep thorough records of your artist's royalty statements.
Lawyers
Lawyers work with Songtrust to refer clients in need of publishing administration. They see a variety of contexts in which their clients need a service like Songtrust. For example, some lawyers manage inherited estates of deceased songwriters for families and usually this includes publishing royalties. Some lawyers also own and operate their clients' Songtrust account as part of their agreement.
Publishing Companies
Music Publishers use Songtrust to power their catalog administration. They save time and money by outsourcing all of the tedious administrative work, and focus on the fun stuff like creative services and catalog development. Some publishing companies want us to handle their catalogs in specific territories, while they register their catalog in their home country. Here's a blog post outlining why Songtrust is an easy and cost-effective solution to publishing administration.
Media Companies
Media and Production companies work with their writers to set up publishing administration with Songtrust. These companies often hire songwriters to create specific pieces of music for ads, film, and television. Songtrust can administer and collect for these kinds of productions that air all over the world.
Distributors
Songtrust integrates with music distributors (like CDBaby and Distrokid), enabling them to offer 'opt-in' publishing administration to their clients. Offering publishing administration at this step in the creators' process has proven to be essential for many people who are releasing music. By doing this, creators get a huge jumpstart in royalty collection by simultaneously releasing, distributing and registering their music. This means the royalties owed to songwriters will get to them faster and more accurately. It's a huge value add for companies who offer suites of services to their clients. We have seen a lot of success in offering opt-in worldwide publishing administration to those who are about to release music--global distribution should almost always be complemented by global publishing administration.
Global Music Publishing Administration
Songtrust strives to create a simple and cost-effective solution for any person or business to handle publishing rights in an increasingly digital world. Songtrust also has a dedicated Client Services Team keeping you informed and up-to-date every step of the way. If you're unsure if your business approach fits with the Songtrust model, you can always reach out to our team of publishing specialists.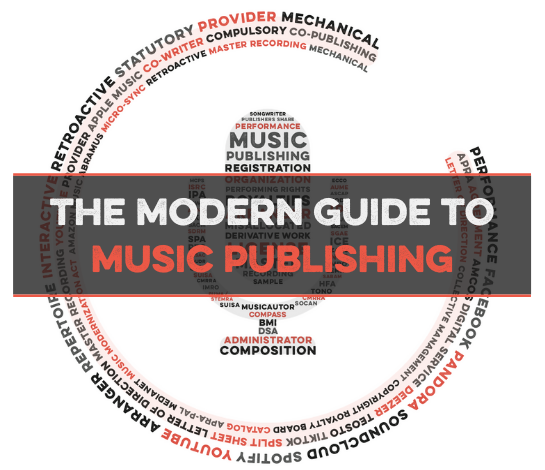 Take control of your publishing. Maximize Songtrust for your songs and business.
We created this guide to answer a simple question: How do songwriters support themselves?
The answer is not as simple as we'd like, but our goal is to make it as clear, transparent and understandable as we possibly can.
Songtrust is more than just a rights management platform and publishing administrator - we're a team of experts in the music community who strive to educate, support, and provide thought leadership to creators, representatives, and businesses across the music industry.
Our hope is that you'll finish this guide with an better understanding of the business behind songwriting and have actionable resources to help you be successful.
Related Articles
Music Publishing Resource, Music Business
Music Publishing Resource, Music Business