We've gone on and on about music publishing in general - discussing the various deals songwriters might encounter to the type of royalties their songs can earn them - and of course, we've talked about how Songtrust can help songwriters not leave any money on the table. But, we've shared all these ways in a variety of ways and it's time we highlight the top ten reasons why Songtrust is really an ideal option for songwriters at any stage of their career. Below, you'll find the top ten reasons, out of many, you need Songtrust:
Keep 100% of Your Rights
You put a lot of hard work - blood, sweat, and tears right? - into your songs, so why would you want to give the rights to that hard work away? Whether you're a solo artist just starting out or a veteran in the music industry, you keep 100% of your rights, including any creative rights (ie. sync rights) when you register with Songtrust. We believe that your songs are your songs, and should be yours to do with what you want.
Flexible Terms
Some more traditional publishing deals will take a percentage ownership in your compositions in exchange for work or require you to agree to a set term, often 3 years or more. These terms come with a variety of requirements sometimes including how many songs or albums you have to create, the type of brand you portray, and more. At Songtrust, our terms are flexible - we ask for one year at a time, and are totally supportive if another traditional deal comes along during your term. Got a sync placement? We can negotiate and paper incoming sync deals on your behalf for a 15% commission or you can do it yourself. This flexibility gives you the freedom to make your own career choices while maintaining the security that your royalties are being collected even as you grow.
Flat-Fee
As a songwriter you want to spend most of your money towards perfecting your craft. That's why when you sign up with a publisher you shouldn't have to worry about spending more money than you need to. When registering with Songtrust, you pay a one-time fee of $100, per writer. This flat-fee gives access to the entire Songtrust platform and allows you to register an unlimited amount of songs. In addition, we only take 15% commission of your publisher's share you actually earn - making us one of the lowest commission fees in the industry.
Self-Serve Platform
We live in a digital age where we crave convenience - whether when it's shopping, ingesting content, or creating content. At Songtrust, we believe in the power of technology and providing songwriters with the convenience to make informed business decisions for themselves, by themselves. Our entire platform is self-serve - from registration to uploading songs to claiming your videos on our YouTube monitor. If you never want to interact with our team, you don't have to. As a Songtrust client, you are not only gaining access to our global publishing royalty infrastructure, but also to our team of experts, ready to support and advise on publishing related matters. If you need assistance or guidance through the sometimes complicated world of music publishing, we're only a live chat or email away.
Global Reach
When we say global, we mean our collection covers 90-95% of the music publishing market. Songtrust maintains direct relationships with over 43 societies in over 120 territories around the world, giving us the greatest amount of coverage in the publishing space. Whether you're affiliated with a US PRO like ASCAP or an international society like APRA AMCOS, we can go out and collect your publishing royalties on your behalf. You're a BMI songwriter touring in Germany? No problem - we can help submit your international setlists and collect your publishing royalties from GEMA. Our mission doesn't end here - we're striving to add more society relationships to that list constantly, hoping to cover every society in every territory one day. In addition to the relationships we maintain, our team is global as well with offices in Amsterdam, Australia, and growing.
Support Your Songs
In more traditional publishing deals you might find requirements that include you having to pass over all of your songs during the length of your term, even those songs that you worked on in private outside of the current album you're working on. At Songtrust, we believe that you should have the flexibility and right to choose which songs you want your publishing to work with. That means if you don't want to register any songs you created before 2018, you don't have to! If you choose to include every song you've ever made, we say - even better. You make the decision about which songs to register and collect revenue off of, and we'll focus on making your data better.
More Than Your PRO/CMO
Every songwriter needs to be affiliated with a PRO (performing rights organization, such as ASCAP or BMI) or a CMO (collective management organisation, such as PRS or GEMA) in their territory in order. These societies help songwriters collect their writers share royalties as well as, occasionally, their publishing royalties. However, often times these are performance royalties (some mechanical in international societies) and don't cover the entire publishing royalties claim. We saw this discrepancy and decided songwriters needed a way to collect all of their royalties - performance, mechanical, and micro-sync - in one place. Because of this, we act as your publisher and go out to collect all your publishing royalties on your behalf, so you can focus on what you do best.
Customer Support
What's the point of all this if there isn't anyone to answer your questions when you have them? At Songtrust, you don't have to worry - our customer support team (also known as client success team!) is available Monday through Friday, 10am - 6pm via email, live chat support on your dashboard, social media, and, if needed, by phone. Their entire mission is to make music publishing less complicated with our help desk and help songwriters through the process of registering with our platform. We have some of the most passionate people on this team - constantly ideating new ways to engage with clients and potential clients in new and helpful ways.
Track Your Royalties Your Way
You're the designer of your world, the owner of your career, and should be able to work that way beyond your songs as well. We've created a comprehensive royalty reporting dashboard that allows you to easily follow the royalties you're collecting and even help predict what you might be earning in the future. We also pay out 4x a year, where most societies only pay out 2x, meaning each quarter you'll receive a royalty report and either a direct deposit or check with your earnings. It's your money - you've earned it - you should be able to work with it the way you want to.
Songtrust Community
Last, but certainly not least, is the Songtrust Community. We've worked really hard to create (and continue creating!) an environment for songwriters to learn, network, and discuss everything from music industry issues to music publishing resources. Whether that's through our social media platforms (Follow us on all platforms @songtrust!) or through articles on our blog, we're constantly looking for new ways to connect. When you become part of the Songtrust Family, we continue this mission by offering a weekly or monthly newsletter, regular webinar series, and a client-only Facebook group for further networking and collaboration for all our clients. That's just the beginning - as we'll keep finding new ways to connect and communicate with our community.
Whether you're just starting out or you've been in the business for a while, Songtrust is the ideal option for songwriters in any stage of their careers. With the flexibility and support that our team of experts can offer, you'll never be alone in the important decisions you make about your career or in publishing. If you have any questions, or want to see a live demo of the Songtrust platform, reach out to our team at
contact@songtrust.com
. We're ready and waiting to help you get your publishing in order and not leave any money on the table.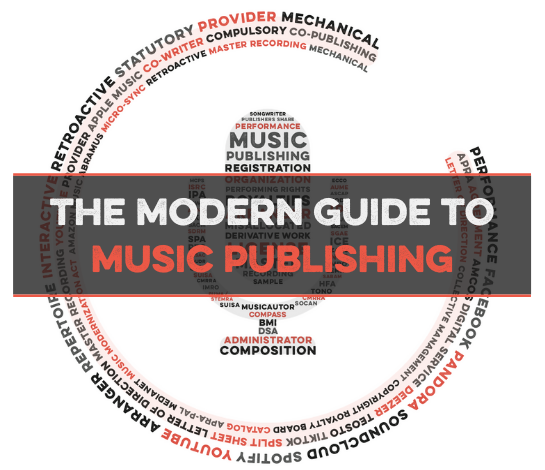 Take control of your publishing. Maximize Songtrust for your songs and business.
We created this guide to answer a simple question: How do songwriters support themselves?
The answer is not as simple as we'd like, but our goal is to make it as clear, transparent and understandable as we possibly can.
Songtrust is more than just a rights management platform and publishing administrator - we're a team of experts in the music community who strive to educate, support, and provide thought leadership to creators, representatives, and businesses across the music industry.
Our hope is that you'll finish this guide with an better understanding of the business behind songwriting and have actionable resources to help you be successful.
Related Articles
Music Publishing Resource
Songtrust News, Songtrust Team