If you've interacted with us before, you know we focus a lot on music publishing education. We've talked about royalties, types of publishing deals, pay sources, the fundamentals of music publishing, and how Songtrust can help avoid leaving money on the table. It's time we highlight the top ten reasons why Songtrust is an ideal option for creators and rights holders, regardless if you're a -- songwriter, producer, composer, manager, publisher, or record label.
Keep 100% of Your Rights
You put a lot of hard work into your songs—in many ways, they're a broader extension of you. So why would you want to relinquish ownership of your music? Selling ownership can be a smart move for some creators depending on the stage of their career. However, for others, maintaining full ownership is very important regardless of where they are at in their career. With Songtrust, you keep 100% of your copyrights, including any creative rights (ie. sync rights) when you register with us. We believe that your songs are your songs, and should be yours to do with them what you want.
Need a refresher on what rights you're entitled to when you finish a song? Read this article to learn about the differences between two songs and the ownership rights you have.
Flexible Terms
Traditional publishing deals almost always take a percentage of ownership, commonly ranging from 25-50%, on your musical compositions in exchange for services such as:
Administration of your copyrights

Providing creative opportunities, such as pitching for sync opportunities or writing sessions

Marketing and promotion

Assisting with building out your team, and more.
These agreements also require you to agree to a set deal term, often three years or more. These terms come with a variety of requirements, sometimes including how many songs or albums you have to create, the type of brand you portray, and more.
At Songtrust, our terms are flexible - we ask for a term of one year, and are supportive if you choose to move your catalog over to another publisher at the end of your term. In addition, you can pick and choose the songs you want us to administer for you. This flexibility gives you the freedom to make your own career choices while maintaining the security that your royalties are being collected even as you grow.
One-Time Fee
As a creator, you want to spend most of your money towards perfecting your craft. That's why when you sign up with a publisher you shouldn't have to worry about spending more money than you need to.
When registering with Songtrust, you pay a one-time registration fee of $100, per writer. This flat-fee gives you access to the entire Songtrust platform, global royalty collection across 215 countries and territories, and the ability to register an unlimited number of songs through your account. We'll also register you with your local collection society of your choosing if you haven't yet affiliated with one at no additional cost*.
Contrary to many other publishing administrators, we only take 15% commission of the publisher's share that you actually earn - offering you one of the lowest commission rates in the industry.
*Songtrust can affiliate you, if you do not already have a PRO, with ASCAP, BMI, SOCAN, IMRO, or ICE. If we're not able to directly affiliate you, we will help point you in the direction of your home territory collection society and their application.
You're In Control
We live in a digital age where we crave convenience - whether it's online shopping, entertainment options, or local transportation. At Songtrust, we believe in the power of technology and education to provide songwriters with the convenience and ability to make the most informed business decisions that are to the best advantage of the creator.
Our entire platform is self-serve - from registration, to registering songs, to submitting a setlist. If you never want to interact with our team, you don't have to. But if you do need support, we are always just one email away.
As a Songtrust client, you are not only gaining access to our global publishing royalty infrastructure, but also to our team of publishing and rights management experts, ready to support and offer advice on music publishing.
Global Reach
When we say global, we mean our collection covers almost 90% of the music publishing market. Songtrust maintains direct relationships with over 50 pay sources and collection societies in over 215 territories around the world, giving us the greatest amount of royalty collection coverage in publishing accessible to independent creators.
Whether you're affiliated with a US PRO like ASCAP or an international society like APRA AMCOS, we collect your publishing royalties on your behalf. You're a BMI songwriter touring in Germany? No problem - we can help submit your international setlists and collect your publishing royalties from GEMA.
Our mission doesn't end here as we're consistently expanding our pay sources relationships around the world. In addition to the pay source relationships we maintain, our team is global, with nine offices around the world, and with access to resources that Downtown Music Holdings' presence in 22 cities around the world offers.
Want a closer look at where we collect from? Check out our global collection list here.
Support Your Songs
In more traditional publishing deals you might find requirements that include you having to pass over all of your songs during the length of your term, even those songs that you worked on in private outside of the current album you're working on.
At Songtrust, we believe that you should have the flexibility and right to choose which songs you want your publishing to work with. That means if you don't want to register any songs you created before 2018, you don't have to. If you choose to include every song you've ever made, we say - even better.
When you join Songtrust, you can register as many or as few songs as you'd like. You make the decision about which songs to register and collect revenue off of, and we'll focus on collecting your royalties.
More Than Your Collection Society
Every songwriter or rights holder needs to be affiliated with a PRO (performing rights organization, such as ASCAP or BMI) or a CMO (collective management organization, such as PRS or GEMA) in their territory. These societies help rights holders collect their writer's share royalties as well as, occasionally, their publisher's share royalties. However, oftentimes these are performance royalties and don't cover the entire domestic and international publishing royalties claim.
We saw this discrepancy and decided songwriters needed a way to collect all of their royalties - performance, mechanical, and micro-sync - in one place. Because of this, we act as your publisher and go out to collect all your publishing royalties on your behalf, so you can focus on what you do best.
Client Services
Music publishing can sometimes get a bit complex, so what's the point of all this if there isn't anyone to answer your questions when you have them? At Songtrust, you don't have to worry - our Client Services Team is available Monday through Friday, 10AM - 6PM EST. Their mission is to make music publishing less complicated. For quick answers to frequently asked questions, we have our Help Center to assist you further.
Track Your Royalties Your Way
These are your royalties, and more importantly your songs. We want to make sure that you have a clear understanding of where your royalties are coming from. That's why we've created a comprehensive and transparent royalty reporting dashboard that allows you to easily follow the royalties you're collecting.
We also pay out four times per year, where most pay sources only pay out 2x. This means each quarter you'll receive a royalty report and a direct deposit. It's your money - you've earned it - you should be able to work with it the way you want to.
To learn more about what items you can expect on your Songtrust Royalty Statement, download our Royalty Statement Guide.
Songtrust Community
Last, but certainly not least, is the Songtrust Community. We've worked really hard to create (and continue creating!) an environment for songwriters to learn, network, and discuss everything from music industry issues to music publishing resources. Whether that's through our social media platforms (Follow us on all platforms @songtrust) or through articles on our blog, we're constantly looking for new ways to connect and share information with anyone interested in publishing (even if you're not a Songtrust client).
When you become a part of the Songtrust Community, we continue this mission by offering a weekly newsletter, regular webinar series, and a client-only Facebook group for further networking and collaboration for all our clients. That's just the beginning - as we keep finding new ways to connect and communicate with our community.
Take Control of Your Publishing
Whether you're just starting out or you've been in the business for a while, Songtrust is the ideal option for creators and music companies at any stage. With the flexibility and support that our team of experts can offer, you'll never be alone in the important decisions you make about your career or in publishing.
If you have any questions reach out to our team at contact@songtrust.com. We're ready and waiting to help you get your publishing in order so you're not leaving any money on the table.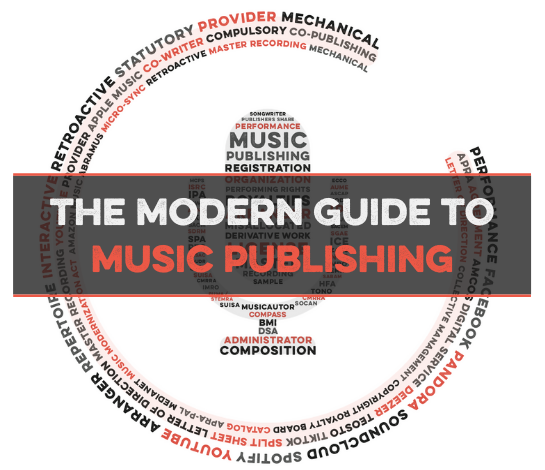 Take control of your publishing. Maximize Songtrust for your songs and business.
We created this guide to answer a simple question: How do songwriters support themselves?
The answer is not as simple as we'd like, but our goal is to make it as clear, transparent and understandable as we possibly can.
Songtrust is more than just a rights management platform and publishing administrator - we're a team of experts in the music community who strive to educate, support, and provide thought leadership to creators, representatives, and businesses across the music industry.
Our hope is that you'll finish this guide with an better understanding of the business behind songwriting and have actionable resources to help you be successful.
Related Articles
Music Publishing Resource, Industry Interview, Music Business
Music Publishing Resource, Music Business